That's So Raven: Here's Why Bow Wow Says He's 'Not Black'
Shad Moss fires another round of controversial tweets.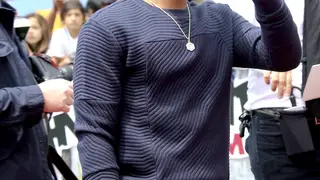 Bow Wow is at it again with the controversial tweets. This time, though, it wasn't his comments about one of his exes that had people raising eyebrows, but about his own racial heritage.
It all started when someone asked Bow who he planned to vote for in the upcoming election, Hillary Clinton or Donald Trump.
Bow responded by saying neither of them. When a fan pushed him to acknowledge that it's especially important for Black folks to vote because of what ancestors sacrificed for the privilege, he pretty much said that's not his problem:
To prove his point, Shad shared a rare throwback photo of his estranged father, who appears to be light-skinned, on Instagram:
The debate continued from there, with the actor/host continuing to anger fans by saying that he doesn't think voting matters because he voted eight years ago and isn't sure what difference it made. Ultimately, he did endorse one candidate for president:
Have a #TBT moment with some of Shad's most infamous Twitter drama with BET Breaks above.