Laced Up Shawty!: Lil Mama Stuns In 'Crotch' Pants As She Twins With Kash Doll
Come on legsss.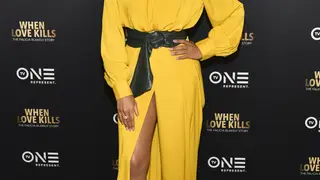 This summer, ladies are lacing up something other than their shoes. All over social media, you can find stars and influencers rocking these lace-up, barely-there pants. These pants simply cover the front and back of their torso with the little strip of fabric being held together by crisscrossing strings on the front and side of their legs.
The way trends work now, it's no surprise when we catch some ladies wearing popular pieces at the same time. Rappers Lil Mama and Kash Doll were both rocking this look in VERY different ways.
Check out the female rappers sporting similar looks below:
Lil Mama is wearing latex pants with a matching latex cabbie hat. She finished off the look with a corset, medieval inspired top, a gold belt and mustard, strappy heels. 
Kash Doll can be seen in a leather version of the pants with a full lace-up look including her top and heels.
If you're looking to show a little skin this summer, this may be the look for you whether you wear it like Lil Mama or Kash Doll. Who do you think rocked this look best? Let us know in the comments below!