Michael B. Jordan Talks Naked Kitchen Run-ins With Ellen
The "Black Panther" star really wants to move out.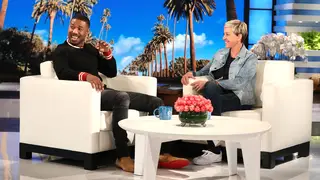 Michael B. Jordan is currently on the promo trail for his highly anticipated upcoming film Black Panther. His latest stop was on The Ellen Degeneres Show and while there, he made a bold confession that hilariously eclipsed the rest of the interview.
Jordan started out by telling Ellen during the sit-down that he desperately wants to move out of his parents' house as soon as he possibly can. 
"I love my parents but we have a roommate relationship right now which is interesting," he said. "You get home-cooked meals but then you also have those random run-ins that might be a little uncomfortable from time to time."
What run-ins is the Creed actor speaking of? When Ellen asked if he meant nude middle-of-the-night runs to the kitchen, he agreed.
"Sometimes shirtless," he said. "Maybe a little naked."
Check out the hilarious interview, below:
Jordan plays villain Erik Killmonger in Marvel's Black Panther, set to hit theaters, nationwide, on February 16.