A 'Basketball Wives' Star Viciously Accused Her Co-Star of Faking a Miscarriage
Wow.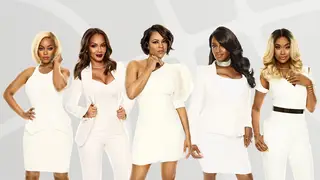 The newest addition to Basketball Wives is certainly doing the most to keep up with the plotlines.
Aja Metoyer, whose claim to fame is that she had a "break baby" with Dwyane Wade, found herself in the middle of the last episode's biggest drama when she accused her own sister of faking a miscarriage to gain the sympathy of Evelyn Lozada, Tami Roman and millions of viewers at home.
During an outing with the show veterans, Aja's sister Cristen Metoyer appeared to have bonded with Evelyn and Tami over losing babies. Aja, perhaps feeling envious of the new friendships, jumped in to spill the "true tea" to her friend Saniy'yah.
"That's what we call it, losing babies? Aborting a baby," she said, claiming Cristen lost her baby via abortion, not miscarriage as she said. "I've lost a child, I've had a real miscarriage in my life, nothing about that is to joke about. Cristen uses tears for sympathy. Stop it, stop trying to make these ladies your friend."
Watch below:
Later, Cristen clapped back with her side of the story. "I went to the doctor and it didn't have a heartbeat," she said. "Who's gonna lie about some s**t like that? That's f**ked up. For her to sit up there and lie about me having an abortion, that's an all-time low for her."
Well, damn. Looks like there's no love lost at all between these siblings. 
Get the back story on Aja from Wendy Williams, above.