Viola Davis Makes Academy Awards History As Most Nominated Black Actress Ever
The Oscar winner continues to be a trailblazer in more ways than one.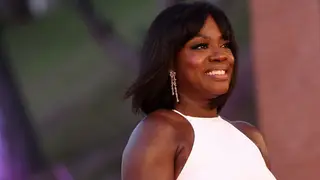 This year's Oscar ceremony hasn't even aired yet and Viola Davis has already made history.
Her nomination for the title role in Ma Rainey's Black Bottom was her fourth Oscar nod, making Davis the most nominated Black actress in Academy Awards history. The South Carolina native also has the distinction of being the only Black woman with two Best Actress nominations.
Davis has previously been nominated for Doubt, The Help, and Fences. She took home the Best Supporting Actress trophy for Fences, which she acted alongside Denzel Washington, a fellow Black Academy Award winner. Entertainment Weekly notes that Washington is the most nominated Black male actor in history with eight nods (two wins).
In 2015, when Davis became the first Black woman to win the Lead Actress Emmy for her work on "How To Get Away With Murder," she gave a powerful speech about the lack of diversity in Hollywood and how difficult it is to find success as a Black actress. She noted that the only thing separating women of color from everyone else is "opportunity" and she said "you cannot win an Emmy for roles that are simply not there."
The first and so far only Black actress to win in the Academy Award in the Best Actress category is Halle Berry for 2001 film Monster's Ball.