SZA Opens Up About Having BBL Surgery; 'I Treat My Butt Like a Purse'
The Grammy Award-winning singer disclosed her decision to enhance her shape in a new interview.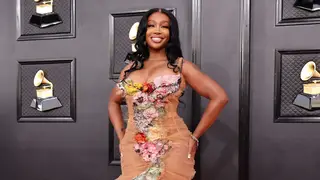 SZA is known for her honest and straightforward lyrics and the singer is just as blunt in her interviews.
In a phenomenal new interview with Elle Magazine, the 33-year-old Grammy Award-winning singer shared that she made some recent enhancements to her voluptuous shape.
"I treat my butt like a purse," SZA shared, "It's just there to enhance whatever else. And that's why I paid for it, because it works all by itself."
She added, "I always wanted a really fat ass with less gym time… I didn't succumb to industry pressure. I succumbed to my own eyes in the mirror and being like, 'No, I need some more ass.'"
The article's writer, Sylvia Obell made a specific note about the topic, writing, "In our conversation, she makes sure to note that the decision to have the surgery was hers alone."
SZA has previously hinted at having a Brazilian Butt Lift. On the introduction to her album SOS, she rapped, "That ass so fat, it look natural / It's not," before going on to add, "I talk bulls— a lot"
While other singers and models are demure on the subject of whether they have had surgery, this New Jersey native is naturally bold and honest, telling Elle, "That's some Jersey s---. You know what I'm saying? When I feel like I have too much to say and I don't want to say it cute."
SZA is currently on her first arena tour supporting her chart-topping album, SOS. The album topped Billboard's 200 Albums Chart, broke streaming records, and gave the performer her first No.1 single, "Kill Bill" — which features her fantasizing about murdering a former flame.
In a January interview with People, SZA bluntly shared, "just entering my era where I am accepting that I might be a bitch, and that's OK." She added, "Not all the time, but I'm not a bubblegum sweetheart and that's OK."
"I'm OK with also being the villain, I'm OK with speaking my mind and just being who God designed me to be."