Emmys 2020: The Blackest Moments Of This Year's Semi-Virtual Awards Show
Issa's true Hollywood story, Zendaya's historic win, Gabrielle's bars and more must-see TV.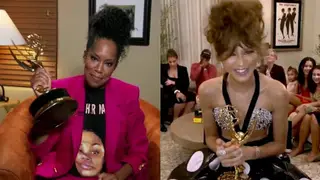 That's a wrap on this year's Emmy Awards broadcast, which was arguably the weirdest one in history thanks to the coronavirus pandemic. The annual television awards boasted the most Black nominees in history, and while most didn't take home (or, rather, have delivered to their home) hardware thanks to Schitt's Creek and Succession sweeping most categories, the show was chock full of Black excellence. Here's a rundown of some of the Blackest moments of this year's telecast:
 
Issa Rae recalls the hurdles she faced in Hollywood

Insecure actress Issa Rae may have topped her "I'm rooting for everybody Black" viral Emmys moment from 2016 this year, when she talked candidly about her first Hollywood pitch to a white studio executive who tried to tell her what Black people wanted to see on TV.

"For me, that moment was the motivation I needed to keep doing what I was doing," she said. "To kind of bet on myself. And that fueled me. Like, 'Oh, okay. I'll show you.' And, you know, one of us got fired after that."

Tyler Perry honored with the prestigious Governors Award

Regina King wins Lead Actress in a Limited Series for Watchmen

The five-time Emmy winner wore a T-shirt emblazoned with Breonna Taylor's face across the front.

Gabrielle Union launches her rap career

Gabrielle Union cheered for Insecure to win Outstanding Comedy Series. She did it as a rap, showing rhyming skills we didn't know she had.

Yahya Abdul-Mateen II wins Best Supporting Actor in a Limited Series award for Watchmen

He gave a shout out to West Oakland and dedicated the award to "all the Black women in my life."
 

Uzo Aduba won the Supporting Actress in a Limited Series award

Uzo Aduba earned an Emmy for her role in Mrs. America. She accepted the award proudly wearing a T-shirt with Breonna Taylor's name.

Damon Lindelof's speech about the Tulsa Massacre

In his acceptance speech for winning the Limited Series award, Damon Lindelof, the series creator of Watchmen, dedicated the coveted trophy to the victims and survivors of the 1921 Tulsa Massacre.
"The fires that destroyed Black Wall Street still burns today," he said. "The only way to put them out is if we all fight them together."

Zendaya makes history

Euphoria star Zendaya made history at the Emmys by becoming the youngest actress to win the award for lead actress in a drama.