Hair Rules: The Controversial Give And Take Between Black Hair Stylists And Their Clients
Going to the salon used to be a fun Saturday excursion, but social media is now revealing that the good can come with a bad or even ugly experience.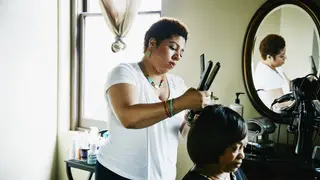 Caring for our natural crown can be liberating and a full-time job. We've all been there when our twist-outs, wash-and-go's, and slick back buns just aren't hitting like they used to. For some, hitting up their hairstylist is the equivalent of hitting up a friend to catch up; for others, seeking a new stylist requires a deep dive into social media. 
These days, social media has become the medium for women of color to get an inside look at what a hairstylist's experience is sometimes like including expensive deposits, outrageous rules, and overall bad experiences. In return, unsatisfied clients are not shy about exposing the root of their tragic hair appointment.
The popularity of sharing salon experiences has taken social media by storm, especially on TikTok - a Google executive admitted that their studies showed 40% of young people took to TikTok or Instagram for discovery purposes. 
We recently talked to TikTokers Domenica and Fellisia, who both felt that the trending social media topic had been a positive experience for consumers. Domenica says, "I think it's more real than written reviews sometimes. You know it's a real person actually saying it; people see the results, and sometimes even the process."
The level of honesty about stylist experiences can be refreshing for consumers. Felicia adds, "There is a whole new level of transparency regarding the entire experience. You learn so much more about not only the service, but you can get a holistic understanding of the experience, which includes all facets of customer service." However, how much transparency is too much transparency? For some, one bad social media post from an unsatisfied client can destroy a once thriving Black-owned business. The U.S. Census data shows 58% of Black owners described their businesses as "at risk" or in "distress." At some point, we must think if the post is worth the potential damage it can have on a Black or Brown business owner.
There has been a wide conversation about Black business owners knowing their worth and value. These conversations have empowered Black business owners of all kinds, especially hairstylists, to "charge up," for example. While this can be a liberating and life-changing experience for Black hairstylists, it can also be a very limiting experience for the communities that supported them. There's an abundance of social media posts referring to the outrageous prices of Black hair stylists. In this Twitter thread, one user explained how one hairstylist charges $500 for a silk press.
As much as it pains us to lose our favorite hairstylist due to hefty pricing, stylists ultimately have the freedom to charge what they are worth. However, they must also recognize that clients have the freedom to be clients without any outrageous restrictions. According to hairstylist Karen Miller, charging your worth always comes at a price. 
"There's nothing wrong with charging your worth. You just have to hold yourself to the same standard or better that you're charging. Always stay on your A game." 
When it comes to unsatisfied clients sharing their thoughts on social media, Karen isn't trying to fight the social media reviews; she's learned to embrace them. "That's just the times we are in. There's no way to protect yourself from bad clients. While I understand you can't please everyone, this is also a way to hold stylists accountable on every level."
Criticism, especially social media criticism, can intimidate any business owner. Although there is no way to avoid other people's opinions in 2023, stylists can still take back their power by learning from it. Karen adds, "I believe we have true power over our businesses. Social media can either help you or hinder you, but ultimately it is the work you're putting out there. I think people are just looking for an overall good experience."