Report: The FBI Is Now Involved In Alleged Kevin Hart Extortion Plot
It has to do with cheating allegations and secret recordings.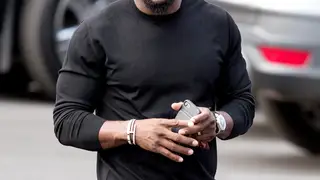 Over the weekend, Kevin Hart was forced to publicly apologize to his pregnant wife and children after a "sexually provocative" video of himself and another woman went viral.
Now, according to new reports, the woman who recorded the video is attempting to extort Hart for big bucks. Apparently, the FBI has gotten involved in the matter and is said to already have a suspect.
According to TMZ, an "anonymous person" reached out to Hart's camp and supplied the video, which seemed to show the comic and the woman engaging in some form of sexual activity, though they cannot be seen in the frame of the clip.
The person who contacted his people demanded a multi-million dollar pay-out in exchange for keeping the video from leaking. Among the long list of demands that were allegedly made in the blackmail was a reported eight-figure sum.
The FBI believes that the individual who is demanding the large amount is either the same woman whom Hart interacted with in the clip, or another person who got their hands on the device that recorded the act.
The site reports that sources close to the comedian refuse to specify whether or not he is the male in the video.
Get more Kevin Hart news with BET Breaks, above.