Sgt. Alwyn Cashe Becomes First Black Recipient Of Medal Of Honor Since 2001
Cashe received the award for going "above and beyond the call of duty" in Afghanistan and Iraq.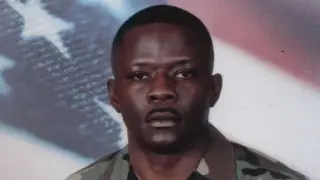 On Thursday (Dec. 16), President Joe Biden awarded the Medal of Honor – the nation's highest military award for valor – to three U.S. soldiers for risking their lives "above and beyond the call of duty" during the Afghanistan and Iraq wars. One of the soldiers awarded was Sgt. 1st Class Alwyn Cashe, who became the first Black service member to be honored with the award since the 9/11 attacks.
"Today, we honor three outstanding soldiers, whose actions embody the highest ideals of selfless service," Biden said at the ceremony, according to ABC News. "We also remember the high price our military members and their families are willing to pay on behalf of our nation."
He added: "We remember the strength and the sacrifices of these military families, caregivers and survivors. And we remember and renew our sacred obligation to those who served this nation in uniform."
Cashe died nearly 16 years ago from injuries he sustained on Oct 17, 2005, while rescuing soldiers from a burning vehicle following an attack during Operation Iraqi Freedom in the Salah Ad Din Province, his bio stated on Army.mil. His uniform caught on fire, and he was severely burned while extinguishing the flames and saving six of his fellow soldiers. He died on November 8, 2005. He was 35-years-old.
Cashe was raised in Oviedo, Florida–just 20 minutes from downtown Orlando. He joined the U.S. Army in July 1989 after graduating from Oviedo High School. He was deployed two years later. He served in the Gulf War, Korea, and Germany before heading to Iraq in 2005, serving as a platoon sergeant in the 3rd Brigade and 3rd Infantry Division at Fort Benning, Georgia.
Kasinal Cashe-White, Cashe's sister, remembered her brother as being "very rambunctious," a "daredevil," and "a good kid all around."  During an interview on Wednesday (Dec. 15), she told reporters that receiving the Medal of Honor "means everything" to their family. "We lost our brother. He can't be replaced," White said. "But this award means that his name, his legacy will go down in history."
According to FOX, Cashe was initially awarded a Silver Star for his brave actions. However, White and several others, including Lt. Gen. Gary Brito, Cashe's battalion commander, called for more. "I think I led the campaign for the last 16 years," White said. "I've been a spokesperson for it, written letters and called people, and just did everything I could, jumped through whatever hoops, to get his award upgraded."
When asked about her brother's distinguished recognition as the first Black soldier to receive the award, White said the honor was "earned" through her brother's actions.