Pandemonium Breaks Out in NYC Outside of Cancelled Kanye West Show
This thing was not properly organized AT ALL.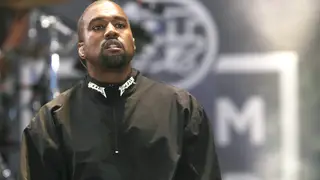 Kanye West is known to be unorthodox when it comes to almost everything.
That's why he tried to put on a surprise show at Webster Hall in New York City at 2 a.m. Monday morning (June 6). Needless to say, it was all over the place.
A large part of why Yeezy wanted to put on a concert stemmed from what went down earlier in the day. Day three of Governor's Ball, where he was slated to headline, was canceled due to poor weather conditions. After showing up for a few songs during the G.O.O.D. Music set at Hot 97's Summer Jam, 'Ye bounced in order to plot his late-night make-up endeavor.
Twitter users, who either lived in the area of Webster Hall or were there, captured what would become the build-up and demise of the hastily prepared show. According to a few, there were 2,500 people lined up for blocks around Webster within 20 minutes of 'Ye announcing the show.
There is no confirmation as to whether there were ever tickets for the show or how Kanye knew it was "sold out." We also don't know whether Webster Hall event coordinators even knew this concert was going down. There were way more people showing up then the venue could even hold, too.
By 1:30 a.m., people who rushed to attend the show were heard chanting "F**k Governors Ball" and "Kanye." Kim Kardashian also captured a snap of her husband calling New York City Mayor Bill de Blasio in an attempt to get numerous blocks near Webster closed off in order to hold the show outside for more people to attend. That attempt was too little too late as he was reportedly denied. What's worse is, shortly after, Webster Hall's official Twitter account announced that there was no show and that everyone should get home safely.
There was a last-minute effort to put the show back on, and 'Ye did officially show up. However, he was only able to interact with fans from a car. After attempts from all sides, Kim announced that the show was officially off and that everyone — who either didn't have jobs or didn't care — had to go home.
Check out some of the pandemonium at the show, supposedly slated to feature Pusha T and Travi$ Scott, among others, below.