'Average Joe': Joe and Company Get Deeper Into the Mess
In the second episode, another Russian mafia goon comes looking for Dimitri.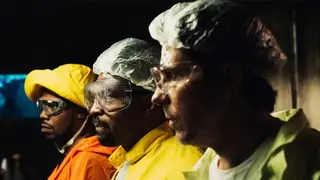 At Casa De Joe, we find him trying to convince his wife and daughter that everything happening right now that turned their lives upside down is really happening and that Dimitri is not the sweet kid they thought he was. It's wild stuff, and they're having difficulty believing it. And let's not forget that the bodies are still in Joe's work van. Then Leon and Gabby show up with the body of the Russian man that broke into their house, and Gabby is livid.
Another Russian goon tracked the phones of the deceased to Joe's house and comes to Joe's crib ready for war. He finds them in the basement, where they are trying to prepare the other bodies for disposal and prepares to shoot Leon, but Touch, who is finally out of his drug-induced haze, comes to the rescue and disarms him.
Let's fast forward a bit. The guy Touch knocked out is now tied up in the basement and they try to get info out of him. He eventually breaks free, takes Joe hostage, and puts a gun to his head. So now there's a standoff, and the Russians demand to know where Dimitri is.
Leon wheels out the bodies to show him where they are,  and the goon is freaked out that they killed Dimitri. He says they're all as good as dead, including himself. He then explains that his wife and daughter will be killed because of his failure, and the oath he took means that he has to kill himself in public to wear his shame and spare his family's lives. Joe drives him to a public place and he does what he needs to do after announcing himself to the unsuspecting people nearby.
They manage to get rid of the bodies, but you know ish will hit the fan when we end the episode with a group of men on a golf course discovering a severed head.