'Average Joe': Joe Gets Dragged Into His Father's Secret Life
In episode one, Joe discovers that his deceased father was into dangerous activities, now affecting the remaining relatives.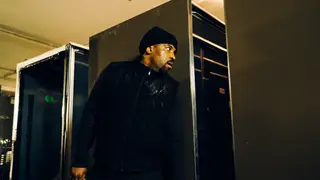 Buckle up because Average Joe is about to be wild!
Episode one comes in hot with the main character, Joe (Deon Cole), at work on a seemingly normal day. You hear a voice-over of him talking about how life is about choices. Sometimes those choices lead to success, and sometimes they lead to disaster. If choices go the wrong way, they could blow back on you and everyone you love. This is when we watch Joe get knocked out by some goon who snuck up on him.
This is inspired by a true story by the way.
The next scene returns to the previous 24 hours before all hell broke loose. The setting is Pittsburgh, Pa. We're at a repast for Joe's father, Teddy Washington. Joe thanks everyone for showing love to his father. Eventually, he even finds time to threaten his daughter's boyfriend, Dimitri. Eventually, He puts on a calm, collected persona; when he's alone, we watch him break down into an ugly cry because losing a parent is one of life's greatest heartbreaks.
Joe decided to go to work at his father's towing business to clean up his pops' office and to keep things in order. When he gets there, he notices the office was ransacked and then we go back to the opening scene where some gigantic man sneaks up on him and knocks him out.
When he comes to, he's tied up in a chair. The man demands to know where the money in the safe is, but he says it in Russian. Joe is clueless so the man begins breaking his fingers. Then, Dimitri shows up. Joe thinks he's about to get help but nah. It turns out, Dimitri is an opp, for real. He demands that Joe open the safe and says he's looking for the money Joe's father stole from his father. His dad has been involved in some shady stuff. Selling drugs, stealing $10 millie plus a Lambo from the Russian mob.
Demitri puts a gun to Joe's head and says someone related to Teddy must know where the money is. Demitri then starts taunting Joe about dating his daughter and suggests maybe she knows where the money is, or maybe his wife, Angie, knows. At some point, Dimitri and the get distracted by Joe's friend Leon who comes looking for Joe. Joe frees himself with his other still intact hand, and hell breaks loose. Joe shoots the goon dead and then he and Dimitri begin fighting.
Leon enters when Joe manages to kill Dimitri. Eventually, Joe also figures out the password to the safe. It turns out there's $100,000 in there and a key. Leon suggests they go to the cops but Joe convinces him that they should just get rid of the bodies themselves and investigate what happened to the money. Leon agrees if he can get 20% of whatever money they find, because that's a good idea.
Anyway, they have a deal and decide not to tell anyone, but we know this won't last.
Meanwhile, Angela can't get in touch with Joe and gets worried so she calls their friend Touch, a cop. Touch agrees to check on them.
Dimitri's father is trying to get in touch with him, but that's not working out, so he sends more goons to go investigate.
Back to Joe. Touch arrives at the shot and witnesses the chaos. They explain what happened and Touch acres to help them get rid of the bodies for a cut of the money and takes lead on devising a plan. It makes sense, especially since he's a cop and can help to hide paperwork if people start poking around. They split the existing $100k for now and claim that they will keep this between them, no wives or girlfriends or anyone else should know.
The Russian goons who are looking for Dimitri and his henchman are tracking their phones and it's leading them to Joe and company. At this point, Joe, Leon and Touch split up but the former two were waiting to hear from Touch about the next steps. This is when we learn that Touch has a drug problem. So, he goes off, buys drugs and gets high out of his mind and falls asleep, a deep drug-induced sleep.
Joe and Leon, who are in their respective homes, panic because they should have heard from Touch by now. Meanwhile, Joe's daughter, Jennifer, has been looking for Dimitri all day and is upset because he's not returning her calls. She steps outside to call him again and hears his phone ringing from her father's work van. The van is locked, so she goes to see if she can find a key or something to get her inside.
Next, Leon is in the bathroom at home, and he has the phone that belonged to Dimitri's henchman, trying to see if he can get anything out of it. That's when one of the goons who tracked the phone comes in. He demands to know where Dimitri is and prepares to shoot him but then Leon's wife comes to the rescue by shooting him. That's three dead Russian mob members now and Leon has no choice but to tell his wife what's up.
Jennifer manages to get into the van and finds the phone and the two dead bodies. She screams. Joe and Angie are in the living room watching TV but they hear the screaming and rush outside. Joe has to tell them what's up, and now everyone who isn't supposed to know what's up, knows what's up. Joe has Angie and Jennifer get in the house. Then he takes off with the bodies in the van and parks it elsewhere but it's game on for whatever war his father dragged him into.