Why HBCU Football Has Become The Land of Second Chances
HBCUs are giving athletes what they need most — an opportunity.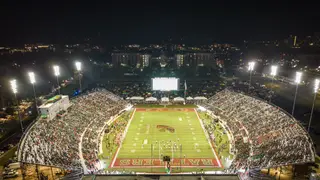 HBCU rosters are filled with transfers, and whether it's within the Football Championship Subdivision of the NCAA (FCS) or players transferring down from the Football Bowl Subdivision (FBS), HBCU coaches are giving players a second chance at college football. These second-chance players aren't just taking up roster spots either. A look at the SWAC, MEAC and even non-HBCU conference schools like Tennessee State's players of the week from the first half of the season show that players are having an impact.
Florida A&M quarterback Jeremy Moussa (via Hawaii and Vanderbilt), North Carolina Central offensive tackle Da'Quan Thomas (via Florida) and Morgan State safety Jordan Toles (via LSU) are just some of the FBS transfers who have established themselves as some of the best players in HBCU football. Even FCS transfers like Jackson State running back Irv Mulligan (via Wofford) and Norfolk State quarterback Otto Kuhns (via Eastern Illinois) have played well enough to earn conference player of the week honors at their second homes.
Yet, HBCUs aren't simply second-chance landing spots for athletes leaving a PWI (predominantly white institution). HBCUs have also created second-chance opportunities for athletes departing HBCUs like Alabama A&M quarterback Quincy Casey (via Jackson State), Florida A&M wide receiver Marcus Riley (via Bethune-Cookman) and Tennessee State linebacker Monroe Beard III (via Arkansas-Pine Bluff) — with all three players earning conference players of the week honors in 2023.
Now, talk of second chances is not to say HBCUs are not or can't be an athlete's first choice, but rather, its intention is to highlight those making the most of their second opportunity. HBCU football programs still bring in talented freshman recruits who choose HBCUs as their first home.
Nonetheless, HBCUs providing athletes a second chance at success is aligned with numerous missions and values of said institutions. Florida A&M's mission is to "enhance the lives of its constituents," Jackson State's vision is to "become recognized as a challenging, yet nurturing, state-of-the-art technologically-infused intellectual community" and Morgan State has core values that include leadership and innovation. 
Doesn't giving an athlete a second chance to pursue their athletic passions enhance their lives? Wouldn't a second chance for an athlete challenge them to outperform their last spot while also providing the nurturing experience of being surrounded by those who look like you at an HBCU? Isn't it innovative for HBCU programs to embrace the changes in collegiate athletics from the transfer portal and be at the forefront of acquiring talent?
HBCUs opening their doors gives athletes in need of a second chance what they need most — an opportunity. It's an opportunity for athletes to find a home and for institutions to uplift students who may need a boost as they chase their dreams.