Lil' Kim Releases Long Awaited Album '9'
It's the Queen Bee's first studio project in 14 years.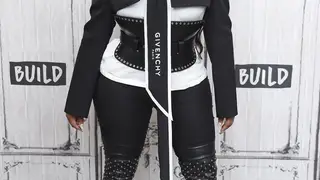 Don't call it a comeback!
Lil' Kim dropped her highly anticipated album, 9, her first studio album in 14 years.
The album, released by Queen Bee Entertainment and eOne, was released on Friday (Oct. 11.)  "Go Awff" was the lead single, released on Feb. 15. The nine-track album features collaborations with City Girls, O.T. Genasis, Rick Ross, Musiq Soulchild and Rich The Kid. 
Complex reported 9 is a two-part project. The release date of the second installment has not been revealed. 
During an interview on the red carpet at the 2019 BET Hip Hop Awards, the mother of one discussed the meaning behind her new album.
"[I]t's a spiritual awakening number for me. Also, when I started out in Junior M.A.F.I.A. it was 9 members, my daughter was born June 9, Biggie died March 9, it is 2019. It's a powerful number for me," Kim described on camera. "One day, you know, I'm very spiritual, and one day God was talking to me, and I was like, '7 is my favorite number.' And He was like, 'Yes, but 9 is your favored number' and I said, 'Thank you, Jesus. I love you. I'm going with 9.'"
In an interview with Extra on Thursday, the "No Time" rapper cited her daughter, Royal Reign, as her inspiration for the album, with "songs children can listen to, too."
She told fans can "expect variety, expect Kimmy to get a little different. I got to grow, I've got to reinvent myself, I've gotta show I am still that fl… At the same time I am a classic, but I am in the now and I will be in the future."
Kim, born Kimberly Denise Jones, also received the I Am Hip Hop Award at the 2019 BET Hip Hop Awards, broadcast on Tuesday, Oct. 7. The Brooklyn native reunited with Lil' Cease and Junior M.A.F.I.A. while performing a medley of fan favorites, including "Crush on You" and "Lighters Up."
9 is the follow-up to her last album, The Naked Truth, from 2005. She released a mixtape titled Lil Kim Season back in 2016.