Hot 97's Ebro Darden Admits He Made A 'Terrible Joke' About Tinashe's Last Name
He called it "ghetto-ass" in resurfaced 2013 interview.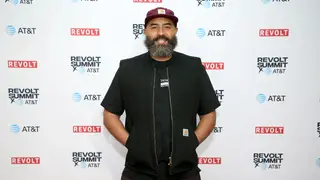 Hot 97's Ebro Darden is left apologizing after a interview from 2013 with Tinashe resurfaced this week.
The interview, which originally aired on December 10, 2013, has found its way back to social media, seven years later, Page Six reports. A 20-year-old Tinashe informs Darden and co-host Pete Rosenberg of her last name: Kachingwe.
He continued, "Now, can we point out how light-skinned she is with a ghetto-ass-name, though?" Rosenberg attempted to save Darden by saying, "it's not a ghetto name, it's an African name."
Darden decided the hole was deep enough, replying, "yeah, but sometimes these ghetto names are actually African."
The "2 On" singer explained her surname is Zimbabwean.
"Yea this was a terrible joke," Darden said of the joke in retrospect. "We were using the name skit for people to learn her origin… love Tinashe thats my homey still."
"They're probably derived from the African names and they go off on, like, a ghetto tangent," Tinashe said with a calm composure.
Darden couldn't seem to stop his rebbutles, then saying to her, "don't you start. Alright, young yellow?" as he pointed at her.
Tinashe kept her professionalism and laughed off the comments before continuing with the interview.
Many people on Twitter were amazed at how Tinashe was able to keep her composure in that situation. One user saying colorism is really crazy because how on earth does someone's skin tone correlate to the name they should have."