Yikes: Tommie Lee's Recent Run-Ins With The Law Are Reportedly About To Affect Her Bag
The "Love & Hip Hop" star allegedly assaulted her young daughter at school.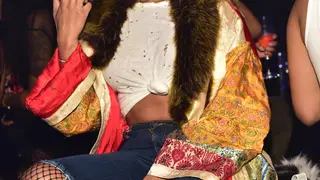 Tommie Lee — real name Atasha Jefferson — may suffer majorly from her most recent arrests, as it is being reported that she may lose out on her most prominent opportunity yet due to her accumulating record.
According to theJasmineBRAND.com, after being arrested twice earlier this month for reportedly slamming her daughter's head into a middle school locker and pulling her hair, Tommie may have to say goodbye to her Love & Hip Hop: Atlanta gig.
The site reports that there is concern from the show's producers and its parent network, VH1, over her most recent arrests.
"Tommie has gotten in trouble before, but child cruelty allegations are a sensitive subject," sources revealed to the site. "They don't want it to appear like they're condoning her behavior."
The reality star has appeared on the reality TV series since season five, when she was introduced as the girlfriend of rapper Scrapp DeLeon.