Alex Rodriguez Passes Willie Mays on MLB's All-Time Home Run List
A-Rod hits No. 661, Babe Ruth next.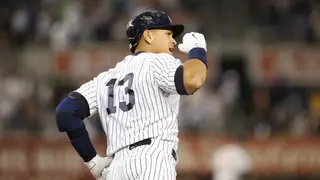 Hate him or love him, Alex Rodriguez continues to move up Major League Baseball's all-time career home run list.
A-Rod blasted his 661st career homer Thursday night, surpassing Willie Mays for fourth place on the MLB's all-time home run list. The embattled slugger, who was suspended for the entire 2014 season for performance-enhancing drug use, now only trails Babe Ruth (714), Hank Aaron (755) and Barry Bonds (762), who actually helped train Rodriguez heading into this season. Coincidentally, Mays is also Bonds's godfather.
After hitting the historic homer, which turned out to be the winning run in the New York Yankees' 4-3 win over the Baltimore Orioles, Bronx Bomber fans' saluted A-Rod with a curtain call.
"It's been a long time,'' Rodriguez told ESPN. "I actually thought the days of curtain calls for me were long gone. A year ago today, I never thought I would ever get a curtain call or be hitting in the middle of the lineup for the New York Yankees. I've said all along: The league, the Yankees, the fans — nobody owes me anything. I'm just so grateful to be playing baseball.''
Rodriguez is hitting .245 with seven home runs and 18 RBI this season for the Yankees. Despite surpassing Mays, the Yankees stand firm in not paying the $6 million bonus owed to Rodriguez for achieving the home-run milestone, arguing that it's a tainted mark because of his PED use. 
BET Sports News - Get the latest news and information about African-Americans in sports including weekly recaps, celebrity news and photos of your favorite Black athletes. Click here to subscribe to our newsletter. 
(Photo: AP Photo/Kathy Willens)