Sesame Place Institutes Diversity Initiatives After Allegations Of Racial Discrimination
One parent has filed a lawsuit.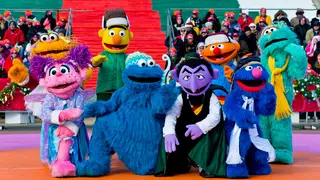 After videos surfaced of characters at Sesame Place ignoring Black children, the  Philadelphia-area theme park is now instituting diversity initiatives.
According to CNN, Sesame Place released a statement that all employees will undergo diversity training: "Initiatives include a comprehensive racial equity assessment, the development and implementation of an anti-bias training and education program, and enhancements to ensure a best-in-class diversity, equity, and inclusion (DE&I) program."
The statement continued, "The racial equity assessment will include a review of policies, processes, and practices that impact guests, employees, suppliers and the community to identify opportunities for improvement."
Cathy Valeriano, president of Sesame Place Philadelphia, also added, "We have already begun engaging with employees, guests, civil rights groups as well as community leaders, and instituted some interim measures at the park while the review proceeds. The actions we are taking will help us deliver on our promise to provide an equitable and inclusive experience for all our guests every day. We are committed to making sure our guests feel welcome, included and enriched by their visits to our park."
On July 16, the viral video of Jodi Brown's daughter and niece being passed over and seemingly rejected by a beloved Sesame Street character caused other families to share similar videos. In Brown's video, the Rosita character high-fives white people along the parade route. Her daughter and niece waited their turn but the person in the Rosita costume gestured "no" and walked away.
In reaction, Sesame Place released a statement saying that it does not tolerate discrimination and explained that the costumes often "make it difficult to see at lower levels." However, Brown's attorney, B'Ivory Lamarr, would say days later that at least 20 other families had contacted him about experiences similar to Brown at the theme park.
Last month, according to the Associated Press, a man named Quinton Burns filed a lawsuit alleging that four employees dressed as Sesame Street characters ignored his daughter Kennedi Burns and other Black guests during a June 18 meet-and-greet. The lawsuit claims the "performers readily engaged with numerous similarly situated white customers."