This Week in Black: Rob & Chyna Give Birth, Stevie J 's Single Life, K. Michelle's Big Move
Change came on knocking during this week's round-up on television.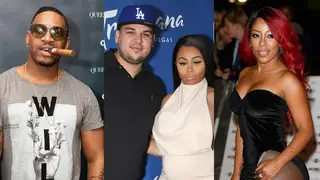 Black television this week had all kinds of shocking moves with new season premieres that caught me off guard. Whether it was the return of Stevie J's single life antics or K. Michelle reminding us that she's still a Southern Memphis Belle  — the gags kept coming. Here's the highlights that had me tossing and turning on the couch for dear life.  
Rob & Chyna Baby Special is as ratchet as you imagined it.
Y'all gotta just pray for Rob & Blac Chyna. They're that dysfunctional young couple that break- up only to make-up then come to your house during the holidays as a hot mess. Well they definitely brought the high-suspense drama during their baby special that was just a little too close for comfort. From us getting a reminder of Blac Chyna's infamous "are you texting bitches, yes or no" line to all of the times Rob was packing his bags  — it's clear that this baby couldn't have come at a better time to help patch this family together. But without avail, there's always some dilemma that must make the reality show worth watching. Translation: we didn't come here to see a happy show featuring the Kardashians. So basically Rob and Chyna can't make up their mind on if they want to live together permanently. Rob talks about it everywhere  — a shooting range, baby shower party, kitchen  — you name it. And to top it off, Chyna's mama kept stirring up mess because she had a few words for Kris Jenner's past shade. But in the end, Mama Chyna extended the ultimate olive branch to Kris by letting her replace her spot in the delivery room during her daughter's C-Section. In the end, all of the Kardashians (minus Kim & Kanye, cause you know she got more "important" things to do) came to see newborn Dream Kardashian and the couple appeared to live happily ever after  — for the taping of the show, at least.
Stevie J wants to date anyone that doesn't remind him of Joseline Hernandez.
Oh what can I say about Stevie J that hasn't already been said of him. The recently confirmed baby daddy of his ex-flame Ms. Joseline Hernandez is now back on television with the new show Leave It To Stevie. Beyond the overdramatics of him trying to remind everyone that he's "the good guy," the guy is back on the market trying to settle for something more sophisticated. So what does one do when their besties are Yung Joc and Lil Scrappy while on a mission to break old dating habits? According to Stevie, avoid strip clubs and go find your next true love at a bowling alley. A bowling alley? I guess you can strike out and catch a couple of dates at the same damn time. Leave it to Stevie, I guess. Well, his strategy works as he finds himself dating what appears to be a wholesome school teacher. Yeah, I wasn't buying that Stevie could bag an educator on first sight either. Come to find out this lady just wants a singing career of her own with nobody's vocals and was looking for a come-up. Memo to Stevie J: leave Atlanta, the presence of the Puerto Rican Princess will haunt everything thing you do like how Miss Celle gave that omen in The Color Purple. But what do I know? I just saw five seasons of LHHATL to know that old flings don't fall fast.
K.Michelle gets solid advice from Trina  — yes, the Baddest one.
So it appears that K.Michelle is starting to finally get away from the drama. An unexpected new season of K.Michelle's My Life creeped up on me like some of these surprise album drops and I wasn't ready. Well, K.Michelle spends the entire episode reminding us how damn grown she is  — even though I remain highly skeptical that she's going to remain level-headed the entire season  — and how she's ready to embark on new things. Well, apparently she's tired of being K.Michelle the artist and wants a break to be the country bumpkin of yesteryear. Listen, as a Southern myself, I can crack that joke (I still keep some hot sauce nearby). But regardless of the antics, I'm still scratching my scalp as to how Trina got on this show and was serving up Iyanla Fix My Life realness. The Baddest came through to summon Kimberly Pate to take her behind back to Memphis and center herself. And because nobody ever tells Trina no (remember she's the baddest [insert any job title|, K.Michelle agreed. So now K.Michelle is going to back to Tennessee where the whiskey stays dry and hopefully her temperament will as well.
Until next week, Black America — remember to never throw bread at your enemy because food is a terrible thing to waste and never go searching for true love at a bowling alley because you might strike-out more than just your time!