Nas Ghostwriting Controversy Continues to Simmer
Jay Electronica and stic.man of dead prez are rumored to have helped pen the Queensbridge icon's Untitled album.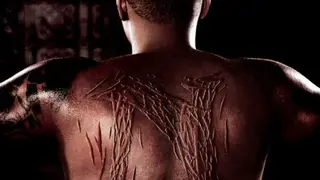 Say it ain't so, Esco.
Hip hop purists worldwide died a bit inside this week when rumors that Nas used ghostwriters exploded online. It all started this past Monday (August 13), when esteemed hip hop journalist and author dream hampton (who knows a bit about ghostwriting herself, having co-penned Jay-Z's Decoded book) tweeted, "Nas' 'N----r' album was largely written by Stic of dead prez and Jay Electronica," in response to a fellow Tweeter criticizing Jay for not making more message-oriented music, citing Nas' 2008 LP (originally named after the N-word before being relabeled Untitled). The controversy took off even further when blogger FWMJ of RappersIKnow wrote a post recounting that he received a phone call from Jay Elec, a friend, in 2007, in which the New Orleans rapper revealed that he was ghostwriting for Nas. FWMJ cited the album's "Queens Get the Money" in particular; Dream, meanwhile, tweeted that she'd "heard reference tracks for, like, 6 songs."
Nas, one of hip hop's most esteemed poet laureates, pulling a Puffy? For many in the rap-o-sphere, the rumors were akin to finding out Santa Claus doesn't exist. dream herself tweeted that she "shed thug tears" over the news, while writer Angela Ford Johnson called it a "gut punch."
And now both Jay Electronica and stic.man have addressed the exploding controversy. Seemingly confirming the reports, stic, who's credited as producer on three tracks from Untitled, wrote the following on his Facebook page:

"As far as the rumors about myself and jay electronika [sic] ghostwriting for Nas, let me say this. Nas is one of the if not the most prolific original lyricist to EVER do it. My contributions to his album was a collaboration and an honor and under his direction of what he wanted to convey and say. Haters cant discredit that man's genuis [sic]. Nas is the Don." 

Jay Elec, meanwhile, tweeted the following last night: "Nas is one of the Greatest Ever. never has and never will need a ghostwriter. that man's pen and legacy is without question."

Oddly enough, just last week, Big Boy, of L.A.'s Power 106 radio station, coincidentally asked Nas if he used ghostwriters. Nas said no. However, he has yet to address dream and FWMJ's accusations. 

What do you think of the controversy? Do you believe that Nas used or uses ghostwriters? And if he does — does it matter? Let us know in the comments below.

BET.com is your #1 source for Black celebrity news, photos, exclusive videos and all the latest in the world of hip hop and R&B music.