Fabolous Got a New Set of Teeth and They Only Cost $40K
And not an ounce of gold or diamonds in sight.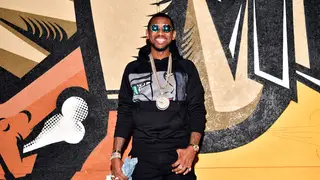 Forget fancy cars, designer duds and diamond chains — Fabolous's latest purchase is a new set of pearly whites. And get this, Loso dropped a whopping $40k to fix his grin! The rapper's chipped front tooth was previously a subject on his 2001 track, "Right Now & Later On."
He went in for the pricey dental work right before NYFW, where he flashed his fresh set of 10 top veneers. According to TMZ, New York dentist Mojgan Fajiram usually charges around $4,000 per veneer, and her roster of rapper clientele is quite extensive. She's responsible for the smiles of Future, Fetty Wap, Fat Joe and more. Apparently, she's the plug of the dental world.