'Till' Trailer: Emmett Till's Mother Fights For Justice In Reimagined Biopic
The film will release nationwide on Oct. 28.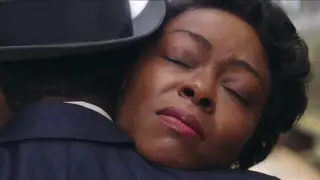 The first look trailer for the MGM Studios Emmett Till biopic Till tells the true story of the Mississippi lynching of the 14-year-old boy and his mother's lifelong fight for justice after his murder in the reimagined and emotional film.
Till's death served as a catalyst for the civil rights movement, and his mom Mamie Till-Mobley (Danielle Deadwyler) insisted on an open-casket funeral after the young boy visited his relatives in Mississippi. Till traveled from Chicago to Money, MS, where he was falsely accused by a 21-year-old white woman, Carolyn Bryant Donham (Haley Bennett), who said that he whistled at her and attempted to grab her hand and waist while at a grocery store.
After the alleged incident, Till was kidnapped from his bed in the dead of night at his relative's home. The child was beaten and tortured before being shot, killed and having his body weighted down and dumped into the Tallahatchie River.
Donham's then-husband, Roy Bryant, and Bryant's half-brother, J.W. Milam, were tried for Emmett's murder. An all-white jury acquitted them in September 1955 after barely an hour of deliberations. In an interview after the trial both men admitted to killing Till, according to History.com.
In 2007, Donham recanted part of her story, telling Timothy B. Wilson for his book "The Blood of Emmett Till" that the teen never touched her or harassed her verbally.
Till stars Jalyn Hall as Emmett. Whoopi Goldberg and Frankie Faison also appear in the film.
Till is in select theaters Oct. 14, followed by an Oct. 28 release nationwide.