Woman at Center of Emmett Till Killing Claims She 'Always Felt Like A Victim'
In an unpublished memoir, Carolyn Bryant repeated her denial of wanting the 14-year-old dead.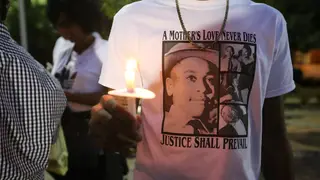 A week after a 1955 arrest warrant was found for Carolyn Bryant, the Mississippi woman who wrongfully accused Emmett Till of making improper advances, her unpublished memoir has surfaced, with a claim that she tried to prevent the 15-year-old Chicago youth from being killed.
According to the Associated Press, the 99-page manuscript was titled I Am More Than A Wolf Whistle and was compiled by her daughter-in-law Marsha Bryant. In the memoir, Bryant framed herself as a victim,  stating she "always felt like a victim as well as Emmett" and "paid dearly with an altered life."
Bryant also denied that she wanted the 14-year-old killed: "I did not wish Emmett any harm and could not stop harm from coming to him, since I didn't know what was planned for him. I tried to protect him by telling Roy that 'He's not the one. That's not him. Please take him home.'"
It's unclear when the memoir was written but historian Timothy Tyson, who wrote The Blood of Emmett Till, obtained a copy of the manuscript from Bryant while interviewing her in 2008. He placed the manuscript in an archive at the University of North Carolina.
Till, 14, was killed in 1955 when he was accused of whistling at and making sexual advances toward Carolyn Bryant, then 21. Her accusation led to him being abducted, tortured and murdered by Donham's then-husband, Roy Bryant, and his half-brother J.W. Milam. Till's body was weighted down and thrown into the Tallahatchie River. When it was recovered, it was clear that he was beaten to the point where his face couldn't be recognized.
Bryant and Milam were tried on murder charges, but were quickly acquitted by an all-white jury. Just months later, when protected against double jeopardy, the pair confessed to the crime in a paid interview with Look magazine.
An investigation into Till's killing was reopened in 2018, following the publication of Tyson's book, which alleged Bryant had recanted her testimony that Till had grabbed her and uttered obscenities. However, Bryant denied she recanted her testimony in an interview with the FBI, who concluded that there was insufficient evidence to prove that she lied to them. The FBI closed their investigation.
Last week, an unserved warrant charging Carolyn Bryant for the 1955 kidnapping of Emmett Till was found in the basement of a Mississippi courthouse. The search was initiated by the Emmett Till Legacy Foundation and two members of Till's family were included: Cousin Deborah Watts, head of the Foundation; and her daughter, Teri Watts. The warrant, dated Aug. 29, 1955, called for the arrest of Carolyn Bryant Donham. The warrant was found in a box and has been certified as genuine.
Emmett Till's family is calling for her arrest. However, Mississippi's Attorney General says there is no plan to prosecute Bryant. According ot the AP, Michelle Williams, chief of staff for Attorney General Lynn Fitch, asserted on July 15, "There's no new evidence to open the case back up."
Williams also noted that the Justice Department previously investigated without filing charges and closed the case in December.
Carolyn Bryant, now 87, is reportedly living in North Carolina, the AP said.