Major Plot Twist: Will Smith Shares Insane Story Of What Happened When He Went To Meet Jada For The First Time
It changed the course of his life, forever.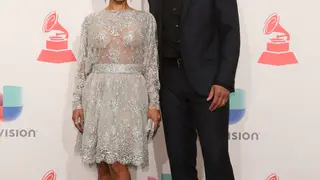 While Will Smith and Jada Pinkett-Smith serve as "relationship goals" for many, the two recently shared on the latter's Facebook Watch talk show, Red Table Talk, that their initial "meeting" of sorts didn't go according to plan. In fact, what happened changed the course of Will's life, for good.
In a teaser clip for the episode, the two share the private story of how they first came into contact, with Will coming to a taping of A Different World, which Jada starred in, to woo her. Sharing details from a conversation he had, back then, with his Fresh Prince of Bel-Air co-star Alfonso Ribeiro, Will explained that he asked to meet her after simply seeing her on screen.
"He [Ribeiro] took me on a motorcycle or something. So, I was like, 'Yo, dude, I saw this girl on A Different World. Her name is Jada," he remembered. "I have a thing — I recognize when I see a person if our relationship can be exponential... First night I met Alfonso, we were playing and I was like, 'Me and that dude are magic.' When I saw you on A Different World, it was that thing. The bell rings and I knew that there was something in our energy that would be magic. So, I was like, 'Alf, hook it up.'"
Here's where things got tricky. Will then went on to explain that when he visited the taping of A Different World, someone else actually caught his eye.
"I walked in. I sat down in the audience, and Alf was like, 'That's my boy who knows her,'" he said. "And I was like, 'Who's that girl he's with?' The dude who was going to introduce me to Jada was with another girl and it was Sheree. I went to [A] Different World to meet Jada and met Sheree and ended up marrying Sheree and having Trey with Sheree. I didn't meet Jada that day."
Will and Sheree Zampino eventually got married in May of 1992, but divorced three years later. He shared on the show that minutes after signing the divorce papers, he called his now wife of more than 20 years, Jada Pinkett-Smith, to ask her out.
Watch them revisit the past, below: