After A Year Of Bleaching Her Skin, Azealia Banks Announces She's Stopping
She likens bleaching her skin to wearing weaves.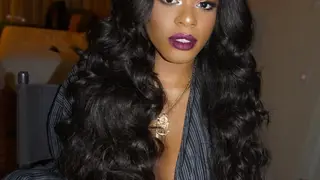 After months of speculation and scrunity, it looks like Azealia Banks had a change of heart regarding bleaching her beautiful brown skin. See for yourself below:
Now she recognizes the error of her ways, writing, "I finally am back to my natural tone. I got curious/desperate and experimented with literally every skin bleaching/lightening/brightening product on the market! Its been a long road but I've finally figured out a good exfoliating/brightening regimen that doesn't look bleachy!!"
Often dubbed as "brightening," "toning," "fading" or "whitening" creams, skin bleaching treatments can lighten your complexion up several shades. While the "recommended" use is to reduce the appearance of dark spots and hyperpigmentation, these creams are often abused to transform ones complexion entirely — feeding into outdated colorism ideals.
Either way, were happy Azealia is embracing her #MelaninMagic and a newer, safer skincare routine!