'Karen' Embarrasses Herself Telling Black Man He Doesn't Live In His Own Home
The woman launches a profane tirade when the man shows he actually does live in the house.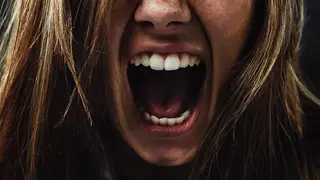 A white woman was caught on video in another incident in which she tries to criminalize a Black man for doing nothing more than simply sitting outside his own home.
TooFab.com posted the video of the unidentified man waiting on his son to come out while the woman, also unidentified, stands on his porch telling him that he did not live at the residence.
"This lady's crazy, y'all," he says, in the video, which was posted to Reddit. "I'm at my house." The woman challenges him, saying "why don't you come into your f*****g house."
So he walks up to the door and enters as normal. "Another white lady pulling some old bullcrap," he replies. A housemate confirms that the man does live at the house. It is unclear what the location of the incident is. The video was posted to YouTube July 9.
The woman still doesn't admit she's wrong and the man becomes frustrated, shouting "I don't have to do anything you say, lady." He says that she'd already called police, but no officers show up during the video.
She walks away and continues to shout obscenities at him, accusing him of being a drug dealer.
"I'm a drug dealer... wow. Amazing," the man laughs. "You see that stuff on the internet all the time, but you never think it's going to happen to you at your own house. But there it is."