Dwayne Johnson Debuts New 'Black Adam' Trailer In Comic-Con Surprise
He was joined by other members from the film.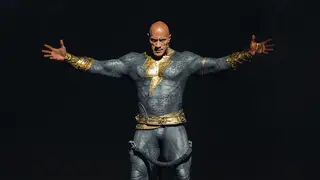 Dwayne Johnson transformed into Black Adam for Comic-Con and caught everyone's attention in the process.
Making a surprise grand entrance at the popular San Diego convention, The Rock rose from the stage floor in his full Black Adam costume, and as he emerged, lightning bolts appeared on the screen behind him and smoke billowed into the space.
According to Variety, audience members were given lightning bolt lanyards before the panel, and everyone lit them up for a grand display. Johnson also reportedly revealed the newest trailer for his upcoming superhero film as part of the Warner Bros. presentation.
For those unfamiliar, Black Adam is bestowed with magical powers from the wizard Shazam, but unlike Shazam, he calls upon the Egyptian gods for his powers. Shazam's self-titled film was a hit in 2019 and starred Zachary Levi.
The new movie will follow the antihero nearly 5,000 years after he was bestowed with the powers of the Egyptian gods. After being freed from his tomb, Black Adam will look to exact his form of justice on the modern world.
Director Jaume Collet-Serra and other cast members from the film joined Johnson on stage at Comic-Con. Attendees were able to ask the panelists questions, including who would win in a fight: Black Adam or Superman?
"It depends on who's playing Superman," Johnson answered, according to Variety.
Black Adam is slated to hit theaters on October 21. Watch the new trailer for it below.