BET YouTube Launches 'The Mandela Project' On Nelson Mandela International Day
The five-part original series will feature appearances by Jabari Banks, Marsai Martin, Big Zuu, Ndaba Mandela and more.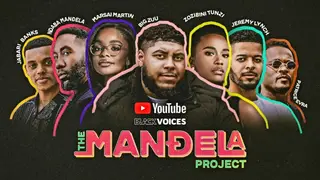 Today we celebrate the 104th birthday of Nelson Mandela with Nelson Mandela International Day. A day set aside to honor the enduring legacy of a man who sacrificed everything for democracy and humanitarianism in his country and ultimately whose way of thinking impacted others around the world. It is a call for us all to make a difference in our communities with the understanding that one small change can lead to greater global impact.
With that same vision, today (July 18) BET's YouTube Channel premieres "The Mandela Project," a five-part series powered by YouTube's Black Voices Fund.
Each episode will feature a globally recognized celebrity who will speak about a passion project that allows them to give back to their communities through the lens of Mandela's work and life learnings.
The first episode includes Jabari Banks from the hit Peacock show, "Bel-Air" whose passion lies in the importance of encouraging young voters to use voting as a way to have a voice that can lead to volumes of change.
Check out the trailer below:
The other episodes to come will feature various worldwide celebrities including actress/producer Marsai Martin  (Black-ish), British rapper and chef Big Zuu, International soccer star Patrice Evra, former Miss Universe and Miss South Africa Zozibini Tunzi, and F2 Freestyler Jeremy Lynch. Each episode will also include personal stories from co-founder and chairman of the Mandela Institute for Humanity Ndaba Mandela, who is also the grandson of Nelson Mandela,
"Nelson Mandela's legacy was rooted in the message of unity for all mankind which aligns with our continued mission for the YouTube Black Voices Fund and YouTube Original programming. We're excited to partner with BET, VIS and The Nelson Mandela Foundation in amplifying the voices of these dynamic storytellers and celebrating Mandela Day around the globe," said Laurel Stier, Global Head of Unscripted Content, YouTube Originals.
"BET is the ultimate destination and platform allowing new voices and filmmaking talent to create engaging and provocative stories. We are proud to partner with YouTube Black Voices Fund and YouTube Originals to celebrate the legacy of Nelson Mandela in our ongoing commitment to expanding diverse voices within the creative community," said Kimberly Paige, EVP & Chief Marketing Officer of BET. "From Atlanta to Brazil and South Africa, our storytellers may come from various places on the globe but are unified by the impact and influence Black culture has on the world, and we can't wait for their stories to be heard."
"The Mandela Project" is produced in Africa by VIS, Paramount's international studio, in partnership with the Nelson Mandela Foundation. Shurwin Beckford serves as showrunner. Nadine Zylstra is Global Head of YouTube Originals. Laurel Stier is Global Head of Unscripted Content, YouTube Originals. Margaret Burris is the Creative Lead on "The Mandela Project" for YouTube Originals.