Juneteenth 2022: The Leimert Park Experience Invigorates the Soul in Style
Dubbed the "Black Greenwich Village," by John Singleton, voices by Masego, DJ Millie, Smino, and more were heard.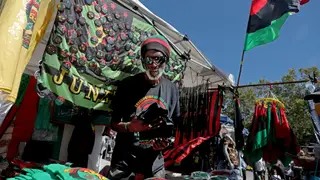 As hundreds of beautifully melanated Black bodies walked down Crenshaw Boulevard, it marked the first time ever that such a main street in South Central had been closed off to traffic.
Led by a collective of artists, executives, creatives, and entrepreneurs from across Los Angeles and other places in the country, the event not only marked Juneteenth becoming an official U.S. holiday but continued to champion the area as a central hub for where Blackness and Black people can feel safe.
Despite the onset of gentrification arriving in the form of a new train station and "mainstream" businesses, the historic Leimert Park Village remains home to a self-starting, conscious, and conscientious community who have built up their own thing from ice cream to breweries to jewelry, and made venturing around the neighborhood an exercise in Black Excellence happening in then-real time.

There were so many applications for vendors to show off their wares that the Juneteenth organizers had to close the list.

The 2021 edition, which proved why the late, great John Singleton called the hub, "Black Greenwich Village," was brimming with life, laughter, and love as people gathered all over to express themselves loudly and proudly. On Degnan Avenue, places like Hot and Cool Cafe, Harun Coffee, Eso Won Books, and more have long since been cultural touchstones. But with people arriving from all over Los Angeles and abroad, it was another opportunity to emphasize why these places needed to remain the center of Black life.
Those changing demographics might have made other places seem less "cultured" than they were before happening, but Leimert Park remains unapologetically Black. In full disclosure, I also helped with communications to get the word out about the event, and relished in another opportunity to "Keep Africa Town Black," a play on how the community wants to cement its Blackness by changing the area's name.
RELATED: Bell Biv Devoe, Khalid, Michelle Obama & More Champion Black Excellence at CNN's 'Juneteenth: A Global Celebration of Freedom'

With a marquee bill that featured homegrown talent like Overdoz, DJ Battlecat, Jimetta Rose & The Voices of Creation, and newly-minted partners such as Amazon's Rotation, Def Jam, Tec Leimert, LACMA, Motown Records, and more — this year promised a chance at utilizing major resources to highlight just how rich and valuable it is to remain Black, booked, and busy pushing the needle forward for your people. As Pan-African flags flew throughout the area, it was hard not to see how happy being around your own can make you. In a time where we've spent the last decade fighting some sort of battle on one front or another, the 2022 Leimert Park Juneteenth Festival was a chance to breathe, reconnect, and invest in the future of one's self and others.
Whether it was a community listening session about achieving reparations due to the proposed legislation in California or witnessing everybody getting their double-dutch on, it was a welcomed return to the outside after being forced by COVID and its ugly step-variants to quarantine indoors.
Last year's escapade showcased how resilient Black lives continue to be with all the animus thrown our way.
In 2022, pure joy and revelry on the faces of the people reigned supreme as they enjoyed music by Malachiii, Masego, Smino, and Buddy, DJ sets by DJ Millie, and bought RBG-imprinted wares from Michael Simpliss and other merchants on Degnan.
It was a cherished and welcomed step forward to enrich the already-curated safe spaces for Black people in L.A. and even if you missed your chance to attend, it shouldn't stop you from wanting to support here, here, and here.
---
Kevin L. Clark is a screenwriter and entertainment director for BET Digital, who covers the intersection of music, film, pop culture, and social justice. Follow him on @IAmKevitoClark.