Donald Trump Is More Triggering Than the Most Misogynistic of Rap Lyrics
Why rappers can get away with certain language but our president shouldn't be able to.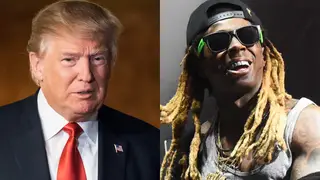 For so many victims of sexual assault, Donald Trump is a trigger. I'd know, because I'm one of them.
In 2003, I was a 13-year-old attending a junior high school in Upstate New York. One night, the boys' wrestling team was left unsupervised. Their practice went later than the girls' basketball team's had, so logistically thinking, it didn't feel abnormal to me that I was alone in a room full of teenage boys wearing spandex uniforms. I was just waiting for a ride home and they were refilling their water bottles. Before I could realize something was off, I was cornered by a beefy jock, the kind with stereotypical low self-esteem. He began mocking me and forcefully grabbing me in places I had never let anyone touch me before, all while his drones cheered him on from a safe distance. I froze and I lost my footing. What happened next began in the same manner as those now-viral words "Grab them by the p***y." The words our 45th President-elect of the United States got away with saying 13 years later, and the actions that student athlete got away with doing.
The year of my assault was an interesting one for me. As a teenage white girl growing up in the suburbs of Upstate New York, eighth grade marked a year of significant hip-hop discovery. The year 2003 solidified a newfound obsession with music my parents didn't understand. In the same year I first ran through 50 Cent's Get Rich or Die Tryin' and Jay Z's The Black Album and also began fostering obsessions with Nelly, Usher and Eminem, I also experienced my first sexual assault. And that had no soundtrack.
Years later, as a female hip-hop journalist, being alone in a room full of men equates with riding dolo to a rap show on a Tuesday night after work. We've all been "that girl" at some point, and not once has it ever made me feel the way that Trump's "locker room" talk has.
Much like practically every other conscious female supporter of rap music can attest, I have found myself conflicted with the lyrical content of some of my favorite songs. Why is it, then, that after personally being "grabbed by the p***y" over a decade ago, Donald Trump is the one triggering my past experiences in a devastating and emotionally damaging way — more so than digesting a decade's worth of misogynistic rap content has?
Perhaps we women of hip-hop are immune to rap lyrics not necessarily meant for our ears in the first place, because being hypersexualized has become a conditioned part of the genre's history and culture. A lot of the time, it's not anything we haven't heard before — from a rapper. However, such publicized objectification in a presidential campaign was not only a first in documented American history, but it was proven to be an acceptable part of a political race, when, on Wednesday (Nov. 9), Trump won the election.
When our favorite rappers make certain comments about women on a track, we can shrug it off, say we don't condone it or simply skip over to the next. However, when the president-elect both believes and broadcasts that he can do "anything" he "wants" to a woman, it should not be avoided, ignored or excused. And because it already has been, that is what makes it so much worse.
While it is cringeworthy hearing Snoop Dogg infamously rhyme "B*****s ain't s**t but h**s and tricks" or Eminem spit "Slut, you think I won't choke no whore," these comments are cringeworthy in a different way. Often, in their music, rappers are detailing consensual actions, often hypothetical, hypersexualized or exaggerated, whereas Trump's commentary suggests behavior of straight-up rape in real life.
The words "I treated her like a b***h" coming out of Trump's mouth paint a very different picture than Future and Drake singing, "I got some down b*****s I can call" on Lil Wayne's track "B*****s Love Me." In a similar vein, Trump allegedly saying the N-word on the set of Celebrity Apprentice is very different from any rapper of color using the same vernacular. It all comes down to context, implied meaning and the speaker itself, and when the source of such bigotry comes from someone running for high office, the effect such shocking language has when announced to a national, and international, audience is incomprehensibly crippling.
Rape remains the most under-reported crime in the U.S., with 63 percent of sexual assaults never being reported to the police. That being said, art does imitate life, with hip-hop being no exception to that. In instances where rappers have found themselves at the center of a sexual assault claim, such claims are taken seriously and investigated, often resulting in arrests being made and cases being taken to court. Throughout the past couple of decades, rappers have been convicted and served time (Tupac, Mystikal), had charges cleared (DMX) and allegations dropped (Freddie Gibbs, Snoop Dogg), while other current cases remain pending (Kodak Black, The Game). There still lies something that separates these men from the likes of Donald Trump: despite their actions, alleged or otherwise, they have never won the Oval Office — and while competing against a woman no less.
These rappers are fathers, brothers and mentors, and while the same can be said of Donald Trump, there still remain several key differences: integrity, self-awareness and ownership. Rappers are self-aware when they cross a line and are more than likely to own it when they do, whereas Trump has approached the severity of the claims made against him during this past year as if he were being accused of stealing someone's labeled lunch bag out of the office's shared refrigerator. The allegations made against Donald Trump did not cost him his career and were reduced to a one-sentence apology statement carefully crafted with cameras in mind. Whereas acknowledging an offensive lyric or serious possible career-altering allegation, although uncomfortable, holds the power to become a teachable moment, one that hopes to inspire the next generation of rappers to make different lyrical or behavior choices, even though there is still much more work to be done.
Even posterboys for romance and #woke levels like Drake and Kendrick Lamar aren't without invisible gold medals for pushing the sexist lyrical envelope. As Lamar and ScHoolboy Q harmoniously chant "You can f**k my b***h, you can have my h*e," Drake poetically weaves bars that routinely and subtly belittle women into tracks that sit comfortably atop the Billboard charts. Neither of the three men will be questioned or looked at differently. Similar to Rick Ross's apology after being bashed for lyrics widely interpreted as pro-rape, we subconsciously believe such words do not reflect a rapper's true heart and we accept their apologies to be authentic in turn.
Trump, on the other hand, brushes it off when he goes too far, throwing blame on his now-political peers, such as Bill Clinton, for "saying much worse" all before moving on to the next controversial, headline-dominating statement. There is no teachable moment for someone like Trump because there is no accountability. Much like that teenage boy who wrongly and inappropriately welcomed himself to my body without my consent, men like Trump think they did nothing wrong. They are reassured they did nothing wrong by a lack of punishment or consequence, and therefore are more likely to become repeat offenders. For a recent example, look no further than Brock Turner, a white student athlete recently convicted of three counts of felony sexual assault. Despite his crimes carrying a potential prison sentence of 14 years, he was only sentenced to six months. His own mother begged the judge to be lenient, saying her son, (again, a white male accustomed to privilege) "wouldn't survive" prison. Turner got off easy, and so does Trump, and their lack of accountability is a hard pill to swallow.
There is no question that being both a woman and a fan of hip-hop is conflicting by nature. However, as history has proven itself, hip-hop culture remains more progressive and forward-thinking than the very country that birthed it, and one can only hope that themes of objectifying women, in time, will fade into the background. The same cannot be said for a president whose behavior consistently encourages such a horrific perspective towards women to become the accepted norm. That is one of the many reasons why I'm terrified of what a Donald Trump presidency could mean for the Brock Turners of the country, all while triggering a part of my past that not even the filthiest of rap lyrics can stir up.