Chris Rock Speaks Out For The First Time Amid Will Smith Oscars Slap
"I'm still processing what happened," the comedian said during his stand-up routine in Boston.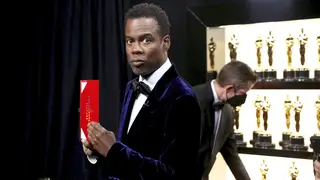 Chris Rock has broken his silence following the viral Oscars incident when he was slapped on stage by Will Smith after he made a joke about Smith's wife, Jada Pinkett Smith.
On Wednesday (Mar. 30), Rock performed at The Wilbur in Boston, where he responded to the shocking event, sharing with the audience, "I'm still processing what happened," PEOPLE reports.
"I haven't talked to anyone, despite what you heard," he added.
The comedian received a standing ovation from the crowd and later told his fans that he would address what happened in a more serious setting at some point.
Smith has since apologized for his actions and posted a public apology on his Instagram page on Monday (Mar. 28) to Rock and The Academy.
​​"Jokes at my expense are a part of the job, but a joke about Jada's medical condition was too much for me to bear and I reacted emotionally," he wrote. "I would like to publicly apologize to you, Chris. I was out of line and I was wrong. I am embarrassed and my actions were not indicative of the man I want to be. There is no place for violence in a world of love and kindness."
Jada also responded to the evening's incident with a brief message on her social media account.
"This is a season for healing and I'm here for it," her post read on Tuesday (Mar. 29).
The Academy of Motion Picture Arts and Sciences announced on Mar. 30 that a formal review was launched to look into the incident at the 94th Academy Awards and that they had begun "disciplinary proceedings" against Smith, according to The Hollywood Reporter.
A statement released after a Board of Governors meeting said that the Oscar-winning actor's actions violated the Academy's Standards of Conduct, "including inappropriate physical contact, abusive or threatening behavior, and compromising the integrity of the Academy."
Smith could face suspension, expulsion, or other sanctions if the board chooses to take action. He will receive 15 days notice of a vote and an opportunity to be heard by written response beforehand.
"Things unfolded in a way we could not have anticipated," the Academy said. "While we would like to clarify that Mr. Smith was asked to leave the ceremony and refused, we also recognize we could have handled the situation differently."
The next meeting is scheduled for Apr. 18.