Wanda Sykes Says Will Smith Slapping Chris Rock Was 'Sickening'
She was hosting the Academy Awards with Regina Hall and Amy Schumer.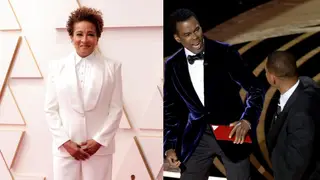 Wanda Sykes, who was co-hosting the 94th annual Academy Awards with Amy Schumer and Regina Hall, has spoken out on Will Smith slapping Chris Rock.
In a preview of a sit down with Ellen DeGeneres which airs tomorrow (March 31), Sykes said, "It was sickening. It was absolutely – I physically felt ill, and I'm still a little traumatized by it."

She also called out the Academy for letting him accept his Oscar for best actor, which was for his role King Richard, "For them to let [Will Smith] stay in that room and enjoy the rest of the show and accept his award – I was like, 'How gross is this? This is just the wrong message.' You assault somebody, you get escorted out the building and that's it. But for them to let him continue I thought it was gross."
Sykes continued, "I know he [Will Smith] apologized to Chris but I believe that we were the hosts, right? So … this is our house, we're inviting you in, we're hosting, we're going to take care of y'all tonight, make sure you have a good time. And no one has apologized to us. And we worked really hard to put that show together… The industry itself, I'm like, 'What the hell is this?'"
Sykes also revealed that Rock apologized to her at Guy Oseary's Oscars after party, "As soon as I walked up to him, the first thing he said was 'I am so sorry.' And I'm like, 'Why are you apologizing?' He was like, 'It was supposed to be your night. You and Amy and Regina, y'all were doing such a great job. I'm so sorry this is now going to be about this' because that's who Chris is."
On the evening of March 27, just before presenting the award for the documentary feature category, Rock made a joke about Smith's wife Jada Pinkett Smith, saying, "Jada, I love you. G.I. Jane 2, can't wait to see it." Rock's joke was in reference to Jada's close-shaved head, a possible result of her recent struggles with the hair condition alopecia.

G.I. Jane was a 1997 film starring Demi Moore who played a character that shaved her hair off during a U.S. Navy program.
Chris Rock was reportedly unaware Pinkett-Smith had alopecia.
After the joke, Smith, 53, walked on stage and slapped Rock. He returned to his seat and shouted at the 57-year-old to "keep my wife's name out of your f***ing mouth." Within the hour, Smith won the Oscar for best actor for his portrayal of Venus and Serena Williams' father Richard Williams in King Richard. During his acceptance speech, Smith did not specifically apologize to Rock, however, he issued an apology on March 28.
Los Angeles police officials were made aware of the incident, but Rock declined to file a police report or press charges. The Academy released a statement that they will conduct a "formal review."