Why Maria Sharapova Can't Keep Serena Williams' Name Out Her Mouth
They still hating on black excellence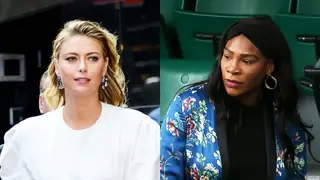 Sloane Stephens won her first career major, defeating fellow American Madison Keys at the US Open on Saturday. Two first-time major finalists, and they are Black (I know Madison just wants to "be Madison" but she is Black and that's a beautiful thing, because Black girls are magic).
Stephens follows in the illustrious footsteps of Venus and Serena Williams, the last Black Americans to claim our country's tennis championship. The latter, of course, is a six-time champion of the event and the greatest player of all time. Even with her absence at this year's US Open due to the birth of her first child, Serena's presence loomed large over this fortnight and every conversation about the future of the women's game began and ended with her. 
Serena was also a focal point in major champion Maria Sharapova's forthcoming memoir, Unstoppable: My Life So Far. Members of the media have received preview copies of Sharapova's memoir and she does not refer to her fellow competitor, Williams, in a positive light. I do not call them rivals because they are not, despite what most of the white media would lead you to believe. Williams owns a 19-2 career record versus Sharapova and hasn't lost to the Russian since 2004. Whether on the court or off, the two engage in battle. 
While there is probably mutual respect between the two as athletes, there is clearly no love lost. But most of it, in my opinion comes from Sharapova. Williams owns her and, as previously mentioned, is the greatest of all time. Sharapova isn't in her class. Yet, everything Sharapova does is framed within the context of Williams, and this is by design — Sharapova's design.
To be fair, it would be silly to think a memoir of Sharapova's life wouldn't include a section about Serena Williams. After all, it was with her victory over Williams in the 2004 Wimbledon Final that put her on the map.
A then 17-year-old Sharapova was the darling of the tennis and larger sports media world, a 6-foot-2 slender, blonde-haired, green-eyed image of Eurocentric beauty; the exact opposite of Serena Williams, a beautiful dark-skinned queen with hips, boobs, ass and muscles. This was the foil for Williams the white media needed and wanted. And for a brief moment in 2004, it was headed there.
Sharapova followed up her Wimbledon win over Williams by beating her in the WTA year-end championships, rallying back from being down 0-4 in the third set. Sharapova was hailed as the reigning queen of tennis and began the next year ranked No. 1 in the world. Williams beat Sharapova in Australia in January of 2005 and has been rolling her ever since. But the narrative was already set and Sharapova has been trafficking as the innocent little white girl to the brute Black force of Williams ever since.
Sharapova described Williams in her memoir, stating, "First of all her physical presence is much stronger and bigger than you realize watching TV. She has thick arms and thick legs and is so intimidating and strong. It's the whole thing — her presence, her confidence, her personality. Even now, she can make me feel like a little girl."
Nowhere in that statement does Sharapova talk about Williams' intellect, tennis IQ and ability to construct a point. If you watch their matches, it is Sharapova who relies on physicality. With each successive grunt, she bludgeons the ball and attempts to hit it harder and heavier than Williams, to no avail.
Meanwhile, Williams takes control of the rallies early and forces Sharapova to be on the move, where she is not as good. She uses drop shots to pull Sharapova forward and returns shots low, forcing the 6-foot-2 major champion to get low. It's brilliant tennis by Williams every time, and Sharapova has no answer and hasn't for 13 years running.
Sharapova is a five-time major champion and owner of the career grand slam, so I cannot discount her as a player. She has more grand slam titles than Jennifer Capriati, Lindsay Davenport and Martina Hingis. But she isn't in the class of a player like Justine Henin, much less twenty three-time champ Williams. But we are where we are and Sharapova knows it benefits her brand to be the foil to Williams and, yes, that means playing with racial subtleties.
I have no way of knowing how Sharapova feels about Black people or the fact that Williams is Black. She is, however, smart enough and understands the larger world and the "game" at play. That book will sell millions of copies because it plays into racial tropes and stereotypes that this country loves to feast on.
Sharapova's continued riding of Williams coattails also plays into a long accepted history of white people profiting off the talents and labor of Black people and exploiting it to their advantage. Her two wins over Williams all the way back in 2004 allowed her to be the highest-paid female athlete for years until 2016. Think about that. A clearly inferior player earning considerably more. How's that possible? It's possible because it's all part of the "game" and Sharapova and her team know how to play it.
This "game" has been going on since the dawn of time from the Great White Hype in boxing, the Tiger vs. Phil debate in golf and the Magic vs. Larry debate in the NBA. Magic and Bird faced each other four times with a championship on the line; once in the famed 1979 NCAA Championship Game and three times in the NBA Finals, 1984, 1985 and 1987. Magic was victorious three of those times in convincing fashion. The NCAA Championship was a blowout win for Magic and his Michigan State Spartans, while the Lakers beat the Celtics in six games in both '85 and '87. With the exception of the Celtics seven-game series victory in '84, Bird came up short every time he went against Magic in championship competition, yet it is seen as some kind of intense rivalry.
The Williams vs. Sharapova head-to-head record overwhelmingly favors Williams, but whenever someone mentions her, Sharapova is discussed as a rival and, more so, whenever Sharapova is mentioned, Serena is as well. The only way the two should be discussed is as contemporaries to an extent. Williams is five years older and turned pro six years before Sharapova, but they've spent 16 years on tour together. Sharapova's quick ascension to the throne, aided by the media, was stopped because the true queen never vacated. Williams has reigned for more than twenty years and Sharapova is a mere footnote on Williams' massive list of accomplishments.
The funny thing is Sharapova believes Williams spends time thinking about her, continuing in her book: "I think Serena hated me for being the skinny kid who beat her, against all odds, at Wimbledon. I think she hated me for taking something that she believed belonged to her. I think she hated me for seeing her at her lowest moment. But mostly I think she hated me for hearing her cry. She's never forgiven me for it."
No, Maria. Serena didn't hate you for beating her. She was angry at herself for not defending her Wimbledon title. Yes, you did take something that belonged to her — the Wimbledon title. If you spent time trying to understand what really makes Serena tick, you might fare better. Serena has often said it's not so much about the feeling of winning but rather avoiding the feeling of losing. Those back-to-back losses in 2004 were a bitter pill to swallow and Serena's made it her mission to never suffer that feeling again at the hands of Maria Sharapova.
The opinions expressed here do not necessarily reflect those of BET Networks.
Jarod Hector is a New York City born-and-raised sports and pop culture enthusiast. Jarod is a multimedia journalist & host who enjoys nuanced discussions of the intersection between sports, culture, and society. He believes My Beautiful Dark Twisted Fantasy is the greatest album of the past 20 years, and says if you root for billionaire owners over millionaire athletes you're part of the problem. Follow him on Twitter and Instagram @jshector.