Makeup Trends To Expect On The Red Carpet At The BET Hip Hop Awards 2021
A glam squad can either make or break a look.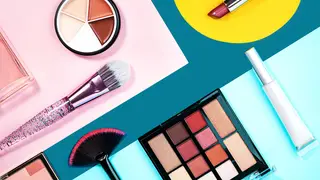 A glam squad can either make or break a look. This holds especially true when it comes to glowing on the red carpet. We personally find that flawless makeup can make a world of difference when it comes to putting your best foot forward on the step-and-repeat. So, what kind of look should you go for to wow onlookers? It's all up to personal opinion. However, celebrity makeup artist Magen Grays is positive that stars will be going all out this year at the BET Hip Hop Awards. 2021. 
"Celebrities are looking to make bold statements this year. With little to no award shows last year due to Covid-19, I believe stars are looking to make their mark on the red carpet," she explains, before predicting we'll see a lot of smoldering eyeliner, brightly colored mascara, volumized lashes, neutrals and earth tones eyeshadows, and bold lip colors at this year's show. 
Citing that inspiration may come from various summer trends, Magen expects that celebrities will more than likely find fun ways to bring their summer beach glow to the ceremony. Of course, this kind of perfection takes time. "A good glam can take 1-2 hours depending on the artist," she explains. "Personally, I want a good hour with my client. I do a lot of skincare before applying makeup to ensure the skin is healthy and the results last all night."
As the MUA for celebrities like Ciara, French Montana, Sharon Leal, Parker McKenna Posey, and LisaRaye we have a strong feeling she's right on point. We cannot wait to see the looks that wow us on this year's red carpet. 
Watch the BET Hip Hop Awards 2021 on Tuesday, October 5 at 9 PM ET/PT.
Editor's Note: This interview has been edited and condensed for clarity.