SZA Compares Her 'Lana' Deluxe Album To Lil Uzi Vert's 'LUV vs. The World 2'
The forthcoming project will add 10 songs to its predecessor SOS.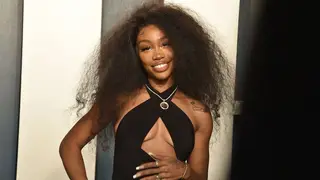 SZA is providing details about the forthcoming release of the deluxe version of her critically acclaimed 2022 LP SOS.
During a new cover story interview with Rolling Stone, the St. Louis-born singer says Lana, which is derived from the nickname of her birth name Solána, was created "in flowy and spontaneous bursts of creativity in between nonwork hangs, and often at a distance."
The 33-year-old also noted that the new project is an "entire new body of work" and will add 10 songs to its original version.
"She cites Lil Uzi Vert's LUV vs. the World 2 (2020), the deluxe version of his beloved Eternal Atake, as an example of what she's thinking," Rolling Stone wrote.
Originally, Lana was set to arrive this fall, but it was pushed back since the lead single, "DTM," has yet to be released.
SZA believes the song is her first attempt at writing about someone she actively likes. It also has the "cadence of a rap freestyle, sporadic and bouncy, sung sweetly, with levity," according to Rolling Stone. "DTM" evolved from just bass, guitar and vocals to a track that's much more fleshed out with instrumentals and a call-and-response element.
Read the full Rolling Stone cover story interview with SZA below.