Diahann Carroll, Groundbreaking Star Of 'Julia' And 'Dynasty,' Has Died
She was 84 years old.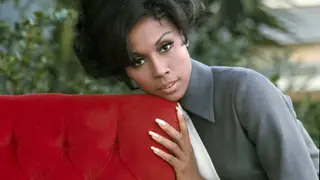 Diahann Carroll, the Oscar-nominated actress and singer who received critical acclaim as the first Black woman to star in a non-servant role in television, has died. She was 84.
The Hollywood legend's daughter, Susan Kay, told the Associated Press that her mother lost her battle with cancer on Friday (October 4) in Los Angeles.
Throughout her long-running career in show business, Carroll amassed several accomplishments; including earning a Tony Award for the musical No Strings and an Academy Award nomination for her work in Claudine. The actress, however, was arguably best known for her pioneering performance in Julia, where she played Julia Baker, a nurse whose husband had been killed in Vietnam. The historic comedy series aired from 1968 to 1971.
While she was not the first Black woman to headline her own TV show, with this role, she was the first to star as a non-stereotypical female character that was not servant-centric in her own prime-time network series. Several actresses portrayed maids on ABC's sitcom Beulah in the early 1950s.
In a 1998 interview for the website The Interviews: An Oral History of Television, Carroll admitted that she initially had second thoughts about accepting the lead role in Julia.
"I really didn't believe that this was a show that was going to work," she said. "I thought it was something that was going to leave someone's consciousness in a very short period of time. I thought, 'Let them go elsewhere.'"
However, she explained that she swiftly had a change of heart when she learned that Hal Kanter, the screenwriter who created the show, thought she was too glamorous for the part. Determined to change his mind and prove she had the range, she took the role.
Prior to her big break in television, Carroll was widely known as a Las Vegas and nightclub performer and was praised for her performances on Broadway and in the Hollywood musicals Carmen Jones and Porgy & Bess.
Carroll was also widely recognized for her role as Dominique Deveraux in Dynasty, Vivian in I Know Why the Caged Bird Sings and Marion Gilbert in A Different World.
"Nothing was more important than our presence at this event," she said. "Everyone was pushing so that we could get there to show him that we were protecting him, showing him our love and support and we did it."
The Television Hall of Fame inductee is survived by her daughter, Kay.
We send our heartfelt thoughts and condolences to her family, friends and fans during this time. May she rest in peace.