The University of Alabama Will Rename Building After First Black Student
Autherine Lucy Foster Was The First Black Student To Attend The University Of Alabama In 1956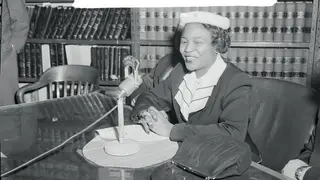 The University of Alabama Will Rename Building After First Black Student
The legacy of civil rights activist Atherine Lucy Foster will be honored at The University of Alabama. On Friday, the school's board of trustees voted to name the school after Foster, the school's first black student, back in 1956.
The decision came after a week of backlash that stemmed from students and members of the community, demanding the building not to be named Lucy-Graves Hall. CNN reported the conflict recognized Lucy, and Bibb Graves, a former Alabama governor and Ku Klux Klan leader.
"The Board's priority is to honor Dr. Autherine Lucy Foster," the University of Alabama System Board of Trustees said in a statement Friday. "Unfortunately, the complex legacy of Governor Graves has distracted from that important priority.
Foster's enrollment at the University of Alabama in 1956 led to unrest on campus as protests followed during her third day on campus, in which she decided to leave the university and pursue her scholarship elsewhere.
She later graduated with a degree in English from Miles College. Foster was inducted into the school's hall of fame, and eventually earned a master's degree in education in 1992.