COVID-19 Rates Plummet Across African Countries To Its The Lowest Levels
Overall, cases across the continent have decreased by 29%.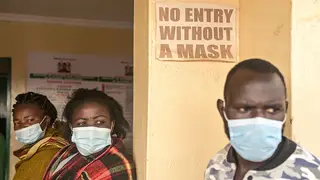 The World Health Organization has released new data showing that countries across the African continent have decreased their COVID-19 rates to lowest levels since the earliest time of the pandemic in 2020.
The WHO- says that there is still a chance of a surge in the coming months for the Southern Hemisphere as the winter season approaches.  Evidence has shown COVID-19 spreads more easily in cooler temperatures because  people gather indoors.
Dr. Matshidiso Moeti, Regional Director of the WHO's Africa office, told CBS, "With the virus still circulating, the risk of new and potentially more deadly variants emerging remains. The pandemic control measures are pivotal to effective response to a surge in infections."
While the rates of overall cases of COVID-19 have fallen, the rate of vaccination remains lower than officials would like across the continent. 
In 2021, the WHO announced that Africa had only reached 10% of its vaccination goal across 54 nations. Just three countries - Seychelles, Morocco, and Mauritius - met their goals.