Leon Ford Jr., Shot by Police and Paralyzed, Won't Be Silenced
Rallies will be held internationally on Saturday, May 3 for Leon Ford Jr., who was shot and left paralyzed by Pittsburgh police in November 2012. He also faces charges of aggravated assault.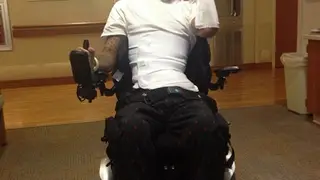 Leon Ford Jr. is in the fight for what's left of his freedom.
The 21-year-old's life changed forever after he was shot five times by Pittsburgh police during a traffic stop the night of Nov. 11, 2012. The incident left him paralyzed, taking away his ability to walk. To add to his injury, Ford is facing at least 20 years in prison for charges that include aggravated assault, reckless endangerment to police enforcement and resisting arrest.
"It's just so frustrating to see. I really cannot believe I'm being charged because I didn't do anything wrong," Ford told BET.com.  
Ford had a court hearing scheduled for May 5, but it is expected to be pushed back to June or July, according to his attorney, Fred Rabner.
The night Ford was shot, he was stopped by police after they said he ran two stop signs. They suspected he was another man named "L. Ford." A dash cam video shows police attempting to pull Ford from the vehicle. After unsuccessfully doing so, Ford drove away out of fear. Police claim they thought a bulge in Ford's sweatpants was a gun. But investigators never found a weapon on him. Authorities also said that Ford endangered their lives when he stepped on the gas, according to CBS Pittsburgh.
BET.com retrieved a motion filed by the Allegheny County District Attorney Stephen A. Zappala Jr. on April 30, 2014, that states if officers are in an area where there are numerous arrests for crimes involving firearms and a history of "inhabitants who react violently to officers," there is "reasonable suspicion" that an individual may be armed and dangerous. 
"The police officers asked Defendant to exit his vehicle. This request was reasonable in order to conduct a search for weapons for officer safety based upon the fact that they were investigating Defendant for criminal conduct, they observed a bulge on Defendant's side, and that it was late at night in a known high-crime area," Zappala states.
Ford's attorney has stated that there was no bulge in his pocket, that he did not pose an immediate harm to the officers, nor was he involved in any criminal activity. Ford had a clean record previous to this case.
At trial, prosecutors may use evidence of the crimes involving firearms in the zone 5 section of Pittsburgh, where Ford was stopped, according to the court document. The officers involved are still on active duty.
(Photos: Leon Ford via Instagram)
Although Ford believes he is a victim of police brutality, he has not let the unfortunate events silence him. In March, he organized a rally in Pittsburgh that brought out 200 supporters. Ford filed a federal lawsuit against the city and the officers involved in September 2013.
"Before the incident I was working at an auto body shop. I was painting cars. I was shooting music videos. I was boxing. I was the average teenager. I was partying, having fun — just doing different things with my friends. It's like so much has changed now. This case, and fighting for other people, has become my life. It's all I think about," Ford continued.

He also shares his story and other news stories of alleged police misconduct with 3,900 followers on Twitter and 23,000 on Instagram.
"I've had people from Africa, Australia, all over the UK; all over the States tell me that they are willing to help," Ford said. "I get so many families reaching out to me to get their stories heard. The response has been bigger than I thought."
On May 3, on behalf of Leon Ford, a group known as the P.A.U.S.E. Network is helping to organize Justice for Leon rallies in Brooklyn, New York; Dallas; London; San Francisco; Pittsburgh; Philadelphia, Olympia, Washington; and Atlanta. The organization formed following Ford's rally in March. Specific locations can be found here.

"It is our intention to help maintain equilibrium between (We) the People and the Government (the State) in order to build and repair the divide that has torn apart the very fabric that builds and keeps our communities progressive," Jalik Moore, a P.A.U.S.E. organizer based in Brooklyn, wrote in a statement to BET.com.
The rally is calling for the Allegheny County District Attorney's office to provide evidence that proves beyond a reasonable doubt that Leon did anything criminal the night he was shot. They are also urging the District Attorney Stephen A. Zappala Jr. to dismiss Ford's charges.

So far, more than 13,000 people have signed a Change.org petition calling for the officers to be held accountable for Leon's injuries. Those unable to attend Saturday's rally are encouraged to participate by posting Ford's story to their social media pages at 3 p.m. EST on May 3.
"We are the younger generation. A lot of the older guys out there, Jesse [Jackson] and Al [Sharpton], they are only paying attention to what's happening nationally. It's time for us to be activists. We have to build our legacy. We have to build our own future," Moore said.
Terra Jackson, another organizer of the P.A.U.S.E. Network, based in Dallas, says the Justice for Leon rally is the first social issue the group is tackling. "It's very trendy for whatever reason to pick up stories and march when that person is dead and in Leon's case he still has a voice and is able to speak," Jackson said to BET.com.
P.A.U.S.E.'s goal is to continue connecting with other grassroots organizations to end social injustices everywhere. "He's not the only one and it's not that it's just an African-American issue because I've seen countless videos of women, children, white, African, Hispanic and it's mind boggling to watch these videos. You ask yourself what are they [police] thinking?"
In the meantime, Ford stays busy to keep his mind off the pending case while coming to terms with being wheelchair bound. 
"I've been speaking at different schools, from elementary schools to colleges. And I try to use my story as motivation because I feel no matter what you go though you can make it out and make the best of any situation."
More information about Justice for Leon rallies can be found here.  
BET National News - Keep up to date with breaking news stories from around the nation, including headlines from the hip hop and entertainment world. Click here to subscribe to our newsletter. 
(Photos: Leon Ford via Instagram)