Orlando Brown Is Ready To Make Somebody Pay For Arresting Him In His Underwear
The former Disney child star has some words for bounty hunters.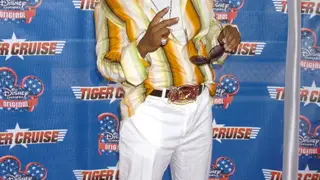 It has been a rough few years for Orlando Brown. The former Disney kid has been accused of being on drugs, had some bizzare breakdowns on social media and last month he was arrested in his underwear.
TMZ reported that the former That's So Raven star was captured by bounty hunters at a house in Las Vegas. Allegedly, there was an outstanding warrant out for his arrest.
Brown was allegedly hiding in a second floor closet when he was found by bounty hunters. He was wearing boxer shorts, a T-shirt and was barefoot. The bounty hunter said he had a warrant to enter the property, which was more than likely for skipping out on a court date from March for domestic violence case. 
See the arrest below:
Brown is now speaking out about the arrest and he plans on suing the bounty hunters. He told TMZ, "Yes, I do plan on suing they asses. Everything takes time, got to be done the right way." He also added, "The cuffs hurt,  the degortative words definitely hurt." Watch the video below:

Above anything, we hope Orlando Brown gets the help he appears to need.