Azealia Banks New Single Blocked by Angry Producer
Spat with beatsmith halts release of "Esta Noche."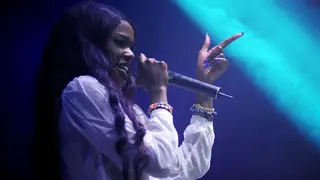 Azealia Banks hit a bump in the road yesterday during the promotional run for her Fantasea mixtape when she was forced to cancel the release of the collection's next single due to a dispute with the producer. The track in question, "Esta Noche," uses a beat by the moombahton beatsmith Munchi, but apparently Banks never sought his permission for the track.
On Twitter, Munchi blasted Banks and her team for making plans to release the song to iTunes without ever contacting him. The upstart rapper from Harlem had already released artwork for the single, which read "Esta Noche – Azealia Banks ft. Munchi," before he ever got word of it.
"@azealiabanks no releasing my track, being a spoiled brat, releasing coverwork, release dates before even reaching out is a good look right?" he wrote.
Banks's team then apparently attempted to resolve the situation with a payout, a tactic that didn't work out so well.
"B---h trying to buy me off after trying to blame me on this s--t, f--k outta here. '25.000 and a public apology' GTFO with this bulls--t," he wrote. "
"@azealiabanks Tell your camp the deal is off I don't want your f--king $25.000. F--k off. Go be a puppet b----h to someone else."
Munchi went on to assail Banks's artistic integrity in several additional tweets. Never one to take a Twitter beef lying down, the 21-year-old rapper fired a few shots back.
"What an amateur," she wrote. "YOU'VE NEVER EVEN SEEN $25K IN ONE PLACE!!"
Despite the fact that the single release has been canceled, Banks said she plans to go ahead with a planned video shoot.
BET.com is your #1 source for Black celebrity news, photos, exclusive videos and all the latest in the world of hip hop and R&B music.
 (Photo: Matt Roberts/Getty Images)