Keyshia Cole Explains Why Her Friendship With Eve Ended
The Grammy-nominated rapper recalled one night out that didn't go according to plan.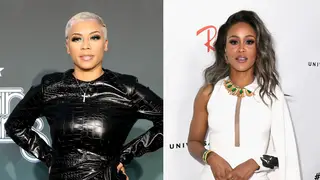 Keyshia Cole is getting candid about her former friendship with Eve and why she believes they are no longer friends.
Appearing on the latest episode of TV One's Uncensored on Sunday (Mar. 6), the "Love" singer recalled one night out that she had with the "Let Me Blow Your Mind" rapper. Cole said that an unidentified woman grabbed Eve's bag which then led Cole to react.
"I turned around and slapped the girl," Cole shared. "Eve was really pissed off about that and we stopped hanging out."
The Grammy-nominated singer thought she was displaying her loyalty to Eve but was not expecting the Grammy Award-winning rapper's response.
Cole explained that she was confused and questioned why the Ruff Ryders artist didn't rally behind her. But ultimately she admitted that she regretted that moment and says it's what created a shift in the ladies' friendship.
"I should have left that to security. Somebody gets paid for that, you know what I mean?" she shared adding that she later realized that there could've been legal ramifications as a result of her behavior.
While it's unclear if the entertainers will mend their relationship, Cole tells Essence that her life is focused on happiness and being present in the moment.
"Life is really not promised," she says. "We spend so much time trying to accomplish so many things to fulfill those in our lives, but we also have to make sure that we make ourselves happy as well and be there for our families and children and the people who deserve our love."
Watch the Uncensored clip below: