How These Black Millennial Women Are Dealing With Depression
It's about time we started having this discussion.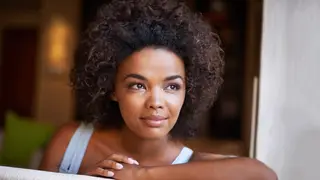 Depression within the Black community is like that elephant in the room no one talks about but sees, feels and acknowledges. Now more than ever, Black millennial women are starting to speak out on their depression, anxiety, bi-polar disorder and all the icky feelings the world can sometimes stick you to, especially now that Trump is president. Model Adwoa Aboah opened up about her personal battle with depression in a public interview earlier this week. The truth about depression is that it can hit you at any time, at any moment, without any regards to age, race, nationality, occupation — whatever. It's a disease that leaves you in a deep, dark hole and getting out of it often requires seeking professional help.
Not only did we speak to three millennial women about their depression and how they conquered it, we also spoke to clinical psychologist Dr. Shari Dade, who has seven years experience dealing with mentally ill patients. Dr. Shari states that the Superwoman Schema, a conceptual framework by Dr. Cheryl Woods-Giscombe, who highlights the ways in which socio-historical process related to stress and coping influence health disparities amongst African American women, is the contributing factor to depression and mental illness within the black community.
The Superwoman Schema is based on four characteristics which are: obligation to manifest stress, obligation to suppress emotion, resistance to being vulnerable or dependent, determination to succeed despite limited resources and obligation to help others. The cultural and psychological implications of the Superwoman role, like focusing on the needs of others and making personal health secondary, might explain the delay women have in seeking help and the limited adherence to health recommendations made by health care professionals that they often experience. Dr. Shari states that these factors are often present in her female clients she's worked with over time. Her immediate solution to millennial women dealing with depression is talk to your friends and go to a safe space. "You'll be surprised as to how many people are going through the same thing." Dr. Shari says. "But most importantly, reach out to therapists in your area. If you can't find help, visit Blackgirlsguidetocalm.com, a site that provides healing and therapeutic ways to handle your stress. There's also Therapyforblackgirls.com by Dr. Joy Bradford, a site that encourages the mental wellness of Black women and girls." Dr. Shari says. Seeking help doesn't have to be in an office with a doctor. You can listen to health and wellness podcasts like The Friend Zone by Francheska Medina and friends or even TedTalk's Health podcast on iTunes. Therapy is a place to learn, heal and care for oneself and that can happen anywhere.
Lashawna Dukes, 28, Office Manager, San Francisco
When did you realize you were depressed?
I was depressed for a while without knowing honestly. I would always sleep for hours and hours without realizing it. My friends would call me to hang out, but I just wanted to be left alone. It was then that I realized that I might be depressed.
What caused to realize you were depressed?
I remember one day I was talking to a friend of mine and she asked me how I was doing and I had to say out loud I was not OK. I felt like I was in a hole and nothing could get me out of it. I think my first step was admitting it so I could face the problem head on.
What was your depression like?
My depression felt like a dark hole. Things seemed very gray and I would get upset at people for trying to bring me out of my darkness because I didn't want them to see my depression. I felt embarrassed.
What led you to depression?
I recently moved to a different state and it was a huge change of environment for me. But I also felt like I was spiritually attacked. I was having a "pause" moment from God and my faith wavered. It was in that moment of weakness the devil attacked me or so it felt.
Why is it important for Black women to admit when they're depressed?
It's so Important for us to acknowledge depression because it then starts the healing process. Black women are strong and we are the energizer bunny of the world but we need to be less chastised for our "shortcomings." Everyone suffers from depression whether we like to admit it or not. It's not something that sticks with you forever, it's just a dark moment. And it's OK for those moments to exist. It will eventually pass.
How did you overcome it?
I prayed. I remember when I made it a constant prayer point every night to talk God to heal me and it worked. I also made sure to go out for walks. A breath of fresh air does so much for the mind and body. I talked to my friends about how I felt and honestly, eating healthy does the body well too! 
Adrienne Bond, 24, Marketing Coordinator, New York
When did you realize you were depressed?
Honestly? Two weeks ago. I felt my vibe shift and it was hard to get my zest back. I think New York is a naturally a depressing place. The buildings, homeless people and piss everywhere; the lack of fresh air really does get to you.
What caused you to realize you were depressed?
I remember being in the house a lot and feeling anti-social. I didn't want to deal with the world, the depression hit me out of nowhere. I knew I was depressed, I felt it.
What was your depression like?
My depression hit me out of nowhere. I was in a constant funk and I couldn't get myself out of it. I just felt like a dark cloud was constantly over my head. I was really going through it!
What led you to depression?
I started to feel overlooked at work, then someone in my family fell ill on top of having relationship issues, it was a downward spiral for me. And Trump is now president. There's just a lot going on.
Why is it important for Black women to admit when they're depressed?
It's important because Black women deserve to be happy. We do so much for the world that we deserve to happy, it's a necessity. I know it can be embarrassing to admit depression but it begins a conversation of healing and help once you've admitted the problem. I think older people see depression as a clutch but I think millennials have understood that mental illness is a real thing. Everyone goes in and out depression and that should be OK.
How did you overcome it?
I overcame my depression by talking about it with my friends and family, they've been very supportive. I've also been doing research on seeing a Black therapist. It looks like there aren't enough of us out here but I'm hoping I can find someone soon. 
Justine Kay, 27, Communications Specialist, New Jersey
When did you realize you were depressed?
I realized I was depressed when I was walking to work and I asked myself, "Why am I taking these steps? Just stop and go back to bed." I felt like I was taking too big of a bite from life. It was overwhelming.
What caused you to realize you were depressed?
I started baking a lot. My roommates would yell at me because we had more bowls in the house and it then that I realized I might have been depressed. I used baking as a coping mechanism.
What was your depression like?
My depression was deep and dark. I didn't feel like getting out of bed. Every step literally felt like it was too heavy. I was always looking down when I walked, my body was constantly slouched, my energy was completely off. I lost my appetite, I didn't feel like working out, I truly felt miserable.
What led you to depression?
I felt like I had a lot on my plate honestly. I was going through a breakup, my workload intensified and I just couldn't cope with everything at once. It was hard to separate my work life and just life and my emotions spiraled out of control. I hit rock bottom.
Why is it important for Black women to admit when they're depressed?
I think it's important for us to admit depression because we deserve the truth. When we lie to ourselves about things like this, we strip ourselves from love and happiness. I remember feeling ashamed of my depression because I felt like I was being weak. But now, I talk about how I feel because it makes me feel so much better.
How did you overcome it?
I talked to my mom about it. But honestly, me admitting to this is making me stronger. If you don't say I'm not OK, you will continue to suffer the pain in silence. I took deeps breaths, let go and just talked about how I felt, that's where the healing begins. You have to talk about it.