Straight Outta Compton Review: Superb Film Despite N.W.A's Problematic History
F. Gary Gray delivers the best work of his career.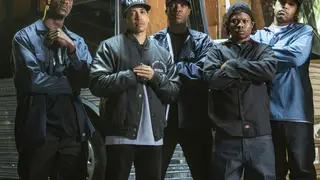 Straight Outta Compton isn't just a hip hop story, it's an American story. Sure, there's nothing groundbreaking about the F. Gary Gray movie. The film is a classic rags-to-riches tale, but solid directing by Gray makes the movie a critic's favorite and soon-to-be box office smash.  
First, there is the casting of three unknowns as Dr. Dre (Corey Hawkins), Eazy E (Jason Mitchell) and Ice Cube (O'shea Jackson Jr.). No A-listers, just strong actors who deliver spot-on performances, especially from Juilliard-trained Hawkins as Dr. Dre. Plus, the script pulls zero punches: no one is morphed into angels, which is the case for many biopics. Straight Outta Compton goes hard enough for hip hop loyalists and includes just enough Hollywood glam to be accessible to wider audiences.
N.W.A famously scared white (and some of Black) America. Coming out of the drug era of mid-'80s Los Angeles, MC Ren, DJ Yella, Ice Cube, Dr. Dre and Eazy E were unlikely stars. But their music resonated with songs like "Express Yourself," "Gangsta Gangsta" and "F**k tha Police." Controversy followed the group, which made them simultaneously famous and infamous. Epic feuds, corrupt contracts and the death of Eazy E, the NWA story is a perfect fit for the big screen. Armed with a good script, Gray has arguably delivered the best movie of his career. But Compton's greatest moment is the handling of Eazy E passing away from AIDS in 1995. Without exploitation, Gray tackled the subject of his death, which shocked the globe, with grace and sensitivity. Eazy E's death helped to shift the conversation, proving HIV/AIDS transcends race, region and sexual orientation. 
Straight Outta Compton also comes at perfect timing. Much of the film tackles race relations in the late 1980s and early 1990s, which nearly mirrors the horrors of racial inequality in 2015. That said, the film is not without flaws: an unnecessary 2-hour-27-minute running time, some stretching of the truth here and there and, of course, glossing over the group's misogyny and homophobia, which angered people then and now.  
Some have argued they will not watch the biopic because of N.W.A's misogyny and Dr. Dre's abusive past. Everyone should decide on their own if Straight Outta Compton is worth buying a movie ticket. From Notorious B.I.G. to James Brown to Miles Davis, all of these artists had a history of violence. If I didn't support artists who spat homophobia, misogyny, classism, transphobia or many other isms and phobias, my iPod, from gospel to rock to hip hop, would be empty. But the true victory in the critiques of Straight Outta Compton is people revisiting N.W.A's history beyond being hip hop legends. Any conversation about misogyny, especially as it relates to Black women, is healthy. Straight Outta Compton is a superb film despite the group's problematic history, but N.W.A's past cannot be rewritten, for better or for worse. 
Straight Outta Compton is in theaters now. Watch the film's young cast talk about N.W.A's relevance today in our exclusive interview below:

(Photo: Universal Pictures)
BET.com is your No. 1 source for Black celebrity news, photos, exclusive videos and all the latest in the world of hip hop and R&B music. 
Click here to enter the #LookYourSundayBest contest for a chance to win FREE natural hair-care products.