'Call Me Miss Cleo': Documentary Seeks To Reveal The Truth Behind Famed TV Psychic
The HBO Max documentary will explore what happened to Miss Cleo and her 1990s psychic hotline.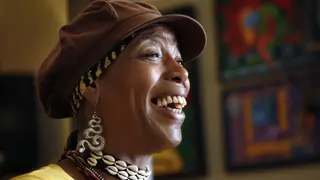 The story behind Miss Cleo, the psychic who promised to reveal information hidden from the normal senses in campy television commercials in the 1990s, is the subject of a new HBO Max documentary.
The streaming service released a trailer on Dec. 1, and says the film will explore "the rise, fall, and reinvention" of Miss Cleo, according to Urban Hollywood.
The famed Miss Cleo was born Youree Dell Harris, a self-proclaimed voodoo priestess who gained a cult following with her appearances on the Psychic Readers Network, the report notes. She became known for her popular "call me now!" The call to action was delivered with a Jamaican accent, propelling Miss Cleo into a household name and even was parodied on the sketch comedy series MADtv.
The franchise, however, collapsed in a house of cards.  In 2002, the Federal Trade Commission charged the owners of the Psychic Readers Network, not Harris, with defrauding customers who called into the company's 1-900-numbers for paid psychic readings, writes Urban Hollywood.
It was later revealed that Harris was born in Los Angeles and had been an actress. She was not a shaman from Jamaica as the TV informercials had claimed.
"The film explores the many layers behind a complicated and charismatic figure. Revisiting an era of corded phones and 1-900-numbers, Call Me Miss Cleo ultimately reveals the truth behind the ever-enigmatic woman who took TV by storm, only to abruptly disappear from public consciousness," according to the official description, Urban Hollywood writes.
The documentary includes personal stories from people close to Miss Cleo, as well as actresses Raven-Symoné and MAdtv alum Debra Wilson.
Harris died at the age of 53 in 2016, but some of her past interviews are featured in the trailer, the report notes.
"Miss Cleo was such an iconic figure to fans and believers nationwide, but her story behind the camera remained an enigma," Sarah Aubrey, head of original content at HBO Max, said in a statement. "We are excited at the opportunity to help tell her true story in Call Me Miss Cleo through the testimonials of those closest to the mysterious TV personality."
Check out the trailer below: