Latina Student Becomes Miss Coppin State, But Faces Backlash From Critics
Keylin Perez ran unchallenged for the title at the HBCU.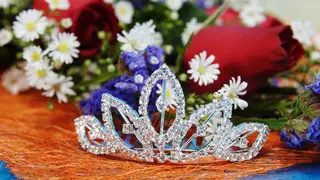 Keylin Perez made history as the first Latina to be crowned Miss Coppin State, an HBCU in Baltimore. Although she ran unchallenged for the title, the 22-year-old's new title did not sit well with some who felt she did not deserve it because of her ethnicity.
Perez, who is a nursing major and a sergeant in the Army Reserves, posted a fun TikTok video titled "When both Baltimore HBCUs Mister and Miss see each other." She told The Baltimore Banner, 80% of the video's comments are attacking Perez for being Latina and Miss Coppin State. An Instagram post from Perez has over 1,000 comments, many full of hate remarks.
"It was a mixture of me 'invading their space,' 'How did Coppin allow this to happen?' and that they are 'confused,' and 'Black people can never have anything,'" she told the Banner.
"I knew that it would happen when I first decided to run," she added. "I knew it might take this route. I just tried to remain focused on what I have done for the university. It makes me feel better."
Perez, whose parents are originally from Guatemala, also said she has never considered stepping down as Miss Coppin State. She also praises the HBCU for helping her form relationships in her field and being a safe space from her high school in Glenelg, Maryland, which has been in the news for hate crimes.
Despite the hate online, she has received tons of support from the Coppin State community. The university said in a statement, "Keylin represents Coppin well in word and deed, with grace, humility, and resilience. She is a great ambassador for our university, our diverse student body, and all we stand for. Eagle Nation stands with Keylin Perez, and we are proud to call her our 91st Miss Coppin State University."
This isn't Perez's first title at the HBCU. She was crowned the university's Miss Sophomore and Miss Junior, and she is also a member of Chi Eta Phi, which is a sorority for nurses.
Keylin Perez is expected to graduate from Coppin State this May.