Vogue Italia Apologizes for "Slave Earrings" Feature
The magazine blames their choice of words on translation issues, but are you buying that?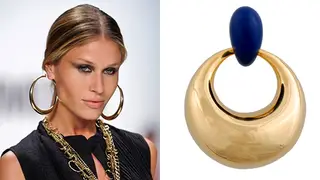 Vogue Italia has issued a formal apology for running an online feature about gold hoop earrings that they dubbed "Slave Earrings," calling the text a "really bad translation."
The magazine found itself in hot water when the article, which was published earlier this month, circulated on Twitter. Along with the "Slave Earrings" headline was a description that formerly read: "If the name brings to the mind the decorative traditions of the women of color who were brought to the southern Unites States during the slave trade, the latest interpretation is pure freedom."
Franca Sozzani, editor-in-chief, issued an apology for the earring description that sparked outrage in commenters and said that it was all a language misunderstanding. "We apologize for the inconvenience. It is a matter of really bad translation from Italian into English," she said. "The Italian word, which defines those kind of earrings, should instead be translated into 'ethnical style earrings.' Again, we are sorry about this mistake, which we have just amended in the website."
The article was edited to replace the headline with "Ethnic Earrings" and the phrase "slave trade" was swapped for "the 18th Century."  Ultimately, the publication removed the text all together and replaced it with the published statement, "We've decided to remove the article from the site to prove our good faith and show it wasn't our intention to insult anyone." Still, the "Ethnic Earrings" headline remains on the site along with the original gallery of earrings.
Are you buying the apology and explanation that there was a translation error or do you think the magazine just got too comfortable?