Drake Takes Aim At Childish Gambino Hit During Opening Night Of 'It's All A Blur Tour' With 21 Savage
The rapper-actor previously admitted to originally intending to shade Drizzy in the original version of the song.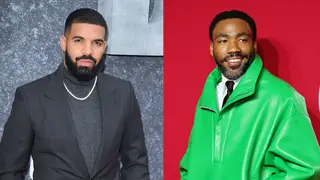 Drake took some subtle shots at Childish Gambino and his 2018 hit "This is America" during the opening night of his It's All A Blur Tour with 21 Savage in Chicago.
On Wednesday night (July 5), while performing "Headlines," the Toronto rapper's production team used the United Center's digital ticker to run the message "The Overrated And Over Awarded Hit Song 'This Is America' Was Originally A Drake Diss Record" around the arena. This comes after the Atlanta creator admitted the track started out as a diss at Drizzy.
Gambino's "This Is America" is now 3x platinum and during an interview with GQ, he revealed that it was a joke and Drake sub initially.
"I had the idea three years before," he explained. "I told [director] Hiro [Murai] the idea, and he's like, 'I really want to do that.' The idea for the song started as a joke. To be completely honest, 'This is America' – that was all we had was that line.
"It started as a Drake diss, to be honest, as like a funny way of doing it," Gambino continued. "But then I was like, this shit sounds kind of hard though. So I was like, let me play with it."