Drake Remembers 'Getting High' Prior To 'Degrassi' Audition In Order To Fit In
He made the revelation in a voice memo he posted on Instagram.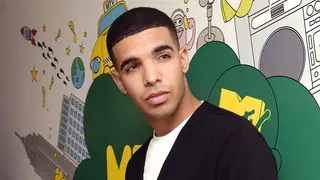 Drake is reflecting on his first foray into the entertainment business.
In a voice memo posted to his Instagram on Wednesday (July 5), the Toronto actor-turned rapper noted that he "got high" right before his audition for Degrassi: The Next Generation, on which he'd eventually land the role of Jimmy Brooks.
"Someone asked me the other night what my biggest fear is, and I've never really had a good answer for it, but my answer was that all this is for nothing," he began in the post. "The idea that one day life ends and it just all goes black."
The 36-year-old then said the question sent him into a "deep spiral of thought" about how "surreal" life is, which subsequently prompted him to think back on his career beginnings.
"I go back to this day when I was like 13 or 14. I had an audition for a TV show that ultimately shaped my life," he explained. "Before my audition, I went to this kid's house. And I, out of, I guess, a desire to be accepted, I would succumb to peer pressure, and I got high with these kids right before my audition."
Additionally, Drizzy admitted he occasionally thinks about what his life would be like if "something bad" would've happened during the day of his audition. "You know, maybe I'm still high, maybe I'm in some coma. And this is just, like, me playing out my ideal life," he pondered. "That concept has stuck with me for a lot of years."
Drake starred on Degrassi from 2001 to 2009 as Jimmy, a basketball player whose life changed after being shot by a classmate, which left him paralyzed from the waist down.